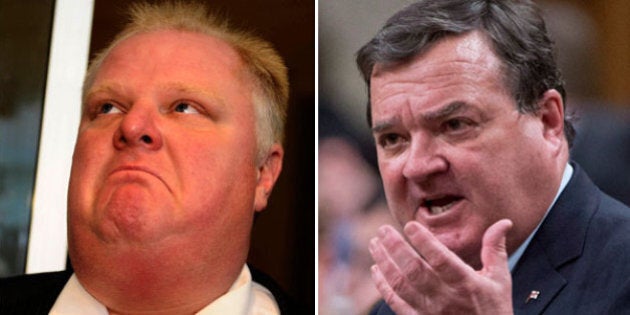 Bitter divisions inside Stephen Harper's cabinet over Toronto Mayor Rob Ford recently erupted on the floor of the House of Commons and triggered a profane battle between two of the prime minister's most powerful ministers.
Several cabinet and caucus sources said Finance Minister Jim Flaherty was unable to hold back his fury after Employment Minister Jason Kenney became the first member of Harper's cabinet to call on Ford to resign on Nov. 19.
The finance minister, who is an old friend of the Ford family, got word of Kenney's public upbraiding of Ford and confronted his cabinet colleague once the two were seated in the Commons for the daily question period.
In a voice loud enough for several of their cabinet colleagues to hear, Flaherty told Kenney to "shut the f--k up" about Ford.
Kenney responded angrily in kind, and although the two men were separated by four other ministers, alarmed caucus colleagues, who requested anonymity, were concerned the bilious debate might escalate beyond their control.
"I thought they might come to blows," said one MP who was not authorized to speak publicly about the incident.
Another MP said there was shock at the sight of two senior ministers battling in such a public way.
"It made other caucus members feel awkward," the MP said. "Jim was very emotional and he is very protective of Ford."
Kenney speaks on The House
In an interview on CBC Radio's The House, Kenney did not deny the confrontation took place.
"Not everyone agrees with each other on everything all the time," Kenney said. "There is always going to be some disagreements from time to time."
Kenney insisted there are not "significant divisions" in the caucus, just the "occasional disagreements on a particular issue that you would expect." He also stressed that he and Jim Flaherty do "get along."
Flaherty did not deny the incident but refused to make any public comment on the encounter.
Just weeks before the incident in the House of Commons, Flaherty became visibly emotional at a news conference when he was asked about Ford's admitted use of crack cocaine.
"I am close with the family," said Flaherty, who appeared to be struggling to hold back tears. "[Ford] has to make his own decision about what he ought to do."
Flaherty served with the mayor's father in the Ontario legislature.
Kenney's comments about Ford also upset members of the Conservatives' Greater Toronto Caucus, which Flaherty chairs.
Sources tell CBC News that some Greater Toronto Area caucus members resented Kenney's comments because they flew in the face of strict instructions to avoid commenting on the Rob Ford scandal because of the Toronto mayor's enduring popularity in some key federal ridings.
"The MPs in the GTA had worked hard to maintain their cool on the subject," said one caucus source, "and along comes Kenney and undermines them."
It has been a difficult fall for the governing Conservatives. The spiralling Senate scandal that saw the Conservatives expel three of their own senators from the upper house as well as Ford's troubles have strained relationships in the caucus.
There have been other examples of escalating tension between caucus members spilling onto the floor of the House.
This past week, Conservative MP Kyle Seeback apologized for calling fellow Conservative Brad Butt a "bitch" during a loud exchange on the Commons floor.
"It was more like a locker room than the House of Parliament," one witness said privately.
The next day, Seeback rose in his seat to deal with the situation.
"Mr. Speaker, yesterday I used some very unparliamentary language in the chamber and for that I unreservedly apologize," Seeback said.
It is unclear what caused that flare-up between the two MPs.
Listen to host Evan Solomon's full interview with Kenney on The House, on CBC Radio One and SiriusXM Ch. 169, Saturday at 9 a.m.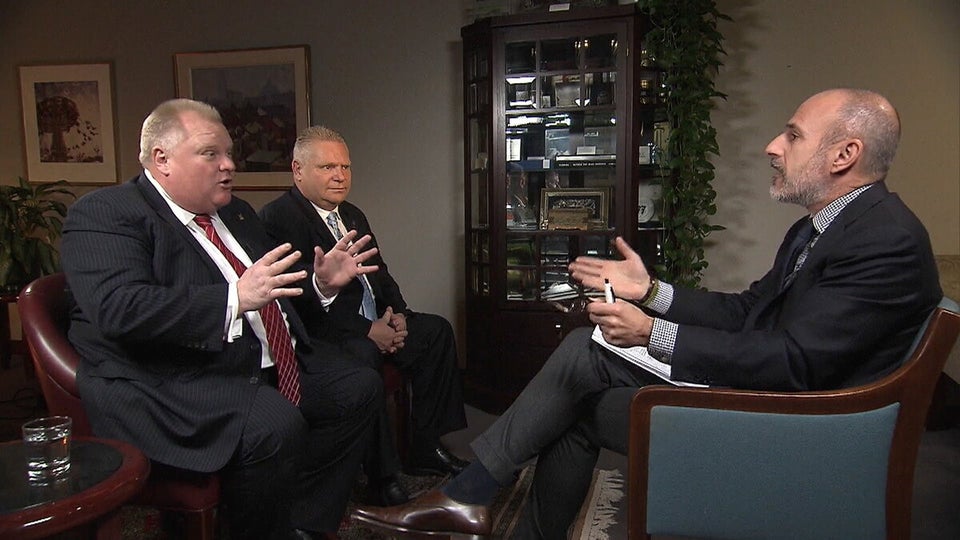 Best Photos From Rob Ford Crack Scandal