The Harper family's official Christmas card has been posted on a website mocking hilariously awkward family photos.
The PM's annual holiday card began arriving in mailboxes late last month. The image on the front shows the smiling faces of Harper, his two kids and his wife Laureen, who is holding their pet chinchilla, Charlie.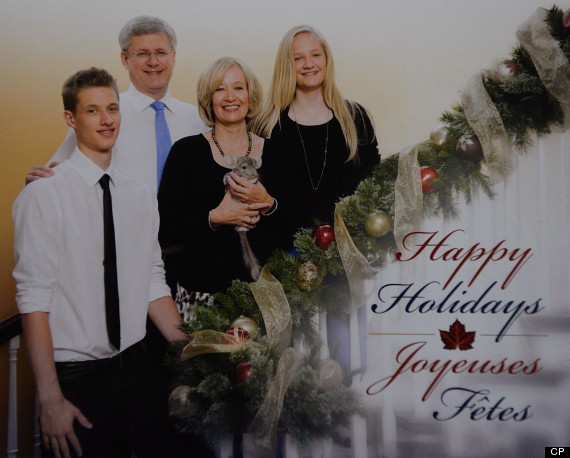 And it's apparently the cute, furry animal that makes this awkward. At least to one person.
Someone uploaded the image to awkwardfamilyphotos.com on November 20, where readers are encouraged to poke fun at those mortifying family photos from the past we all try our best to forget.
"Yes, that is the Prime Minister of Canada and yes, his wife is holding a chinchilla," reads the description.
But it seems not everyone agrees that the shot meets the criteria of truly awkward, especially when you take a gander at some of the shots in the site's "hall of fame."
"I don't find this at all awkward. Canadians of all political stripes know that the Harpers have fostered animals for years (and the chinchilla is rescued). This Christmas card made all of our Canadian newspapers, and it's certainly far less awkward than those repulsive Kardashians," wrote one viewer.
"This is the most NOT AWKWARD picture I've seen on here," wrote another. "Nothing awkward with holding a family pet."
Another expressed disappointment that, thanks to Toronto Mayor Rob Ford, "all of our loser politicians are getting global press now."
Of course, NDP Leader Tom Mulcair and Liberal Leader Justin Trudeau also sent out cards wishing Canadians the best for the holiday season.
Trudeau's featured a collage of his family on the front, and a shot of a snowball fight with his kids inside.
Mulcair has got some work to do to catch up with Justin Trudeau's christmas card. pic.twitter.com/1vZBWP9Erq

— MG (@WorkingCollar) December 11, 2013
Just received my Holiday card from @JustinTrudeau & his lovely wife Sophie! #liberal #support #cdnpoli pic.twitter.com/tCGlwsw7eO

— alexis kleiman (@alexiskleiman) December 9, 2013
While Mulcair went a more traditional route with a photo of the NDP leader and his wife.
Here's #NDP @ThomasMulcair's christmas card, photographed in his Parliament Hill office #cdnpoli pic.twitter.com/XE6pdYRxTF

— Richard Madan (@RichardMadan) December 11, 2013
Also on HuffPost
Awkward Family Photos Holiday Edition