AFP via Getty Images
In a year when there was no shortage of things for Canadians to be embarrassed about (see here, here and here), the pride of Sarnia, Ont. made us all stand a little taller.
In 2013, Hadfield became the first Canadian to command the International Space Station and taught us everything we wanted to know about space travel but were afraid to ask.
And he garnered more than a million Twitter followers.
And he wrote a book.
Did we mention he wasn't even on this planet for almost five months?
2013 was the year Chris Hadfield won our hearts and minds, and showed the the best of Canada to the world. Here's how he did it.
Because For Weeks He Was Sending Us Tiny Perfect Postcards From Space
Tonight's Finale: The full moon rises over the only planet we have ever called home. pic.twitter.com/JWb4cbyc

— Chris Hadfield (@Cmdr_Hadfield) February 18, 2013
And This One
Seven billion hearts, but I can see only one. #ValentineFromSpace pic.twitter.com/01Lvmkig

— Chris Hadfield (@Cmdr_Hadfield) February 14, 2013
And One More
Tonight's finale: Northern Lights - recent aurora in green and red waves, USA and Canada below, the universe above. pic.twitter.com/sgi9q0kT

— Chris Hadfield (@Cmdr_Hadfield) February 11, 2013
Because He's Not Afraid To Cry
Especially when he's demonstrating an important scientific lesson...
He Stands By His Team...
With the lockout finally ending and a 50-game NHL season about to begin, I am ready to cheer from orbit. Go Leafs! pic.twitter.com/xHX55431

— Chris Hadfield (@Cmdr_Hadfield) January 6, 2013
Even though they probably break his spaceman heart. The night he came back to Earth the Maple Leafs blew a 4-1 lead in a crucial Game 7 against the Boston Bruins.
He Shows Us The Weird Things That Happen In Space
He's An Inspiration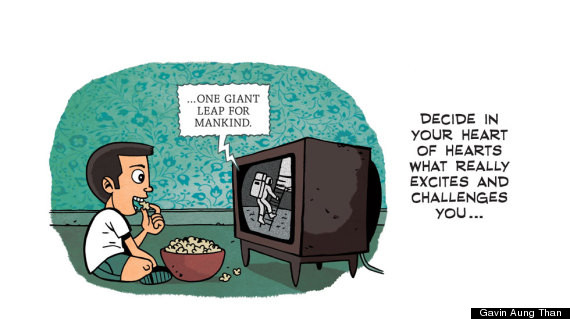 Cartoonist Gavin Aung Than turned some of Hadfield's advice into this beautiful cartoon. Hadfield said that he was inspired by the Apollo Missions of the 1960s and 70s. We have no doubt that a new generation of scientists and explorers will be inspired by Hadfield's example.
He Writes Eloquently About Exploration This is Hadfield talking about international cooperation and the International Space Station.
"That example to me for any kid in the world, any kid standing on any shore line, whether it's some comfortable place or it's a desperate war torn place, any of those young people can look up and see a pretty good example of what people can do when they do things right, watching the space station go over."
He's A Cover Model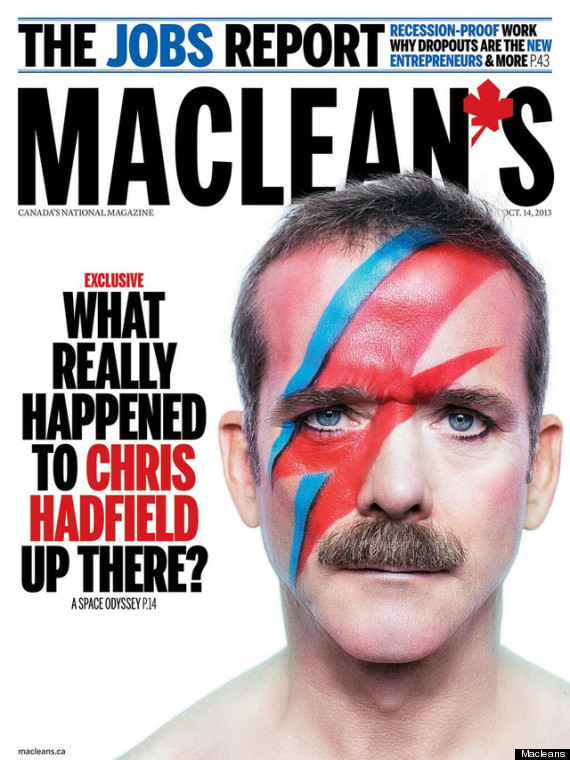 That's not Photoshop. Hadfield got in the make-up chair for the cover shoot.
Two Words: Space Burrito
Also... Space Money
Hadfield helped unveil the new $5 bill in space. The bill features the CanadaArm2, one of the country's most notable contributions to the space program.
He Made One Of The Best Viral Videos Of 2013
He Took The Ultimate Selfie Of 2013
If 2013 is the year of the selfie then it's tough to top this one.
Good morning! Some selfies are more thought-provoking than others. Amazing what you can see in the reflection. pic.twitter.com/Z39tadWK1W

— Chris Hadfield (@Cmdr_Hadfield) September 30, 2013
Do you agree with the selection? What was your favourite Chris Hadfield moment? Tell us in the comments below.
Also on HuffPost