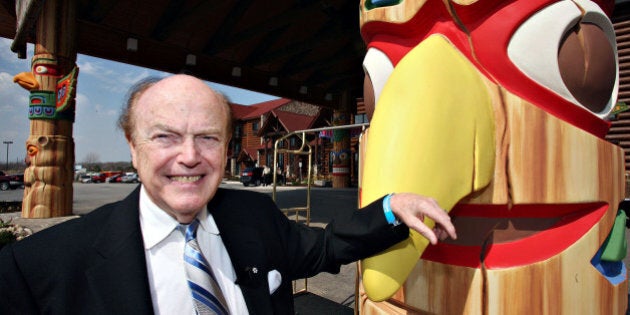 B.C.'s Jim Pattison has edged out David Thomson as Canada's richest man, while Victoria's Sherry Brydson has emerged as the country's wealthiest woman, says a new analysis from Bloomberg.
The media, grocery and car magnate has a fortune of $9.5 billion, topping the Thomson heir who came in at a net worth of $4 billion. Thomson's ranking on the Bloomberg Billionaires Index was downgraded after it turned out he owns a smaller stake in Woodbridge, the Ontario-based firm that manages the family's finances.
Pattison's business empire began with a Pontiac Buick car dealership in 1961 and later expanded to include radio, newspaper and advertising companies as well as a grocery store, The Vancouver Sun reported.
His many business holdings now include Guinness World Records, Buy-Low Foods, Overwaitea Foods, Sun-Rype fruit beverages and Ocean Brands seafood.
Pattison owns a corporate jet and a 45-metre yacht, but he is also known for major charitable contributions. He donated $20 million to Vancouver General Hospital for a prostate research centre in 1999, and $5 million to Surrey Memorial Hospital for an outpatient and surgery centre in 2011.
Canadian Business previously ranked Pattison fifth among Canadian billionaires, with a fortune of $7.9 billion.
"I haven't done the numbers, so I don't really know," Pattison said to Bloomberg when asked about his wealth. "I never pay attention to that."
Brydson, who is David Thomson's cousin, keeps a relatively low profile. She owns 23 per cent of Woodbridge and has a fortune valued at $6.5 billion, making her Canada's third richest person behind Pattison and Galen Weston.
She owns Toronto's Bangkok Garden restaurant and the Elmwood Spa and, like Pattison, is known for major charitable contributions.
Brydson and Thomson paid $5.5 million to save a collection of Tsimshian artworks at a Sotheby's auction in New York in 2006 after the Royal BC Museum was denied a grant to save them, The Daily Mail reported.
Brydson's other holdings include a stake in Vista Radio, an ambulance manufacturer, and she has also developed hotels in Nova Scotia. She lives in an oceanfront home overlooking the Strait of Juan de Fuca.