CP
OTTAWA — Federal Sports Minister Bal Gosal is checking with his department this morning to find out if the loss of his unlocked departmental cell phone may have caused a security breach.
Gosal told the Huffington Post Canada Friday he briefly lost his Government of Canada phone on Thursday night.
"Last night I was at the Leafs game and I went to the bathroom and left my phone there. I went back and somebody, I guess, took it," he told HuffPost.
"I was looking around at the concierge with the lost-and-found and my wife said 'Why don't you try calling?' And so I called my phone and this guy answered and he was luckily in the next section -- we were 119 and he was 118 -- and in 10 minutes I got it back."
Someone on Twitter with the handle @MattFasullo tweeted Gosal from the minister's account, saying: "I found this phone on the floor at the ACC. Let Bal know that his phone will be at customer service."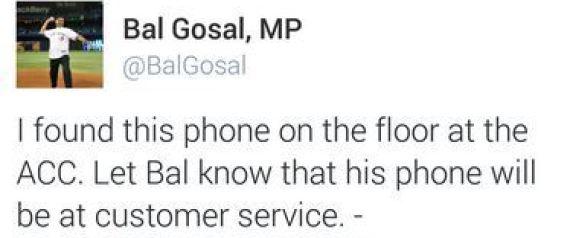 Several people on Twitter suggested Gosal's unlocked phone might be a security breach.
The Privy Council Office and the Treasury Board Secretariat did not immediately return calls for comment.
The federal government's policy on security states that ministers and ministers of state are responsible for the security of sensitive information and assets in their custody.
The "Operational Security Standard: Management of Information Technology Security" policy states that all personnel -- but not necessarily ministers -- must report real and suspected security incidents.
The policy states that locks reduce the risk of unauthorized access to information and that departments must protect portable devices, such as handheld digital devices and cellphones, "given the information they contain and their monetary value."
"Departments must ensure that all personnel know of the security risks associated with computers at workstations and other equipment (e.g. Personal Digital Assistants - PDAs), given that the security of the information accessed depends primarily on the person using the equipment," the policy states.
Gosal told HuffPost his government phone is password-protected but he believes that since he had just been using it, the phone's automatic lock may not have kicked in.
"I was talking to my daughter and so it was not locked," he said.
"Probably, when I was washing my hands I put it on top of the dispenser thing, and wiped my hands and walked out. And right away, he probably picked it up."
"It locks between … I'm going to check the delay. But it is always locked," he added.
Jonathan Asada told HuffPost his friend Matt found the minister's phone on the floor near the Platinum Club.
"He brought it back to our seats and it was unlocked. We didn't attempt to access any emails, what we did do was look through his address book and see if there were any listings under 'mom,' 'dad,' 'wife.'"
They couldn't find anything so they went to his Facebook accounts and posted on his personal page about finding his phone. They did the same thing on his Twitter account telling Gosal where to find it.
@MattFasullo also tweeted that the phone was unlocked but had been successfully found.
"At the time, we had no idea who he was. We are not intimately involved in politics, or anything like that so we didn't know he was the sports minister," Asada said.
Even if his phone was unlocked, Gosal said he doesn't think any information was compromised.
"No, I don't have anything on this phone that probably somebody [could use] other than an address book. I don't think it would be compromised but I will check with the department this morning."
In 2008, then Foreign Affairs Minister Maxime Bernier resigned after leaving classified cabinet documents at the home of his girlfriend Julie Couillard. Bernier said he accepted full responsibility for the security breach.