Just when we thought Alberta couldn't get any more beautiful, a pair of Calgary photographers has dropped ballerinas into some of the province's most stunning scenery.
Kevin Nakonechny and his fiancée Kendal Dyer have been experimenting with Alberta's gorgeous landscapes, photographing long-limbed dancers in graceful poses alongside landslides, petrified trees and city skyscrapers.
It's part of their photo series, titled "Alberta: Beauty Within," which has seen the couple and their troupe of dancers bring a theatrical flair to a western backdrop.
"I think we both see a divide between the way Alberta is often perceived and the present day reality of our province. I'm not sure the 'Wild West' mantra holds true anymore," Nakonechny said of the couple's inspiration for the project.
Story continues below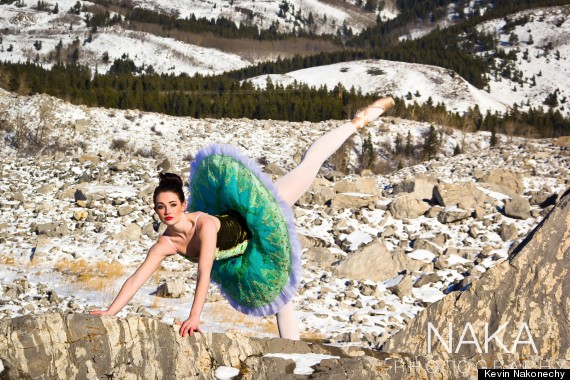 Dyer originally wanted to photograph the dancers juxtaposed against unattractive backdrops – the idea being to contrast something beautiful with something ugly – but the couple became inspired to use the ballerinas to highlight certain themes across the province.
"Alberta is home to a somewhat unknown, yet very impressive art scene. The arts play an important role in the province... We hoped to highlight this lesser known theme, and by doing so, challenge outsiders' perceptions of Alberta," Nakonechny wrote in a blog post about the project.
Those familiar with Southern Alberta will instantly recognize some of the iconic backdrops chosen by the photographers. Calgary's Peace Bridge, The Burmis Tree in the Crowsnest Pass, and a ranch west of Airdrie all serve as stage for the lithe dancers, beautifully styled and poised, despite frigid conditions the November photoshoot brought with it.
Story continues below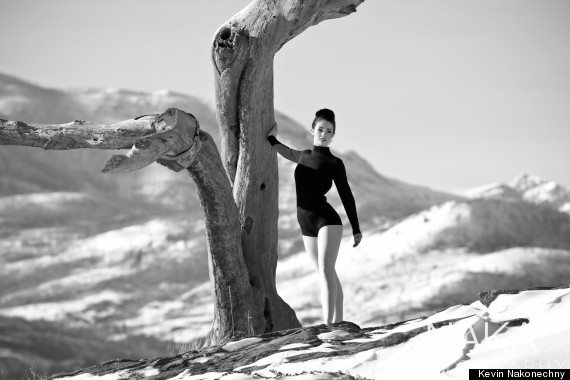 Nakonechny and Dyer plan to continue the project in the new year, seeking out new landscapes across the province and hoping to make it to a few remote locations. You can follow along on their respective blogs, NAKA Photography and Midnightea Art & Photography.
Check out more gorgeous photos in the slideshow below