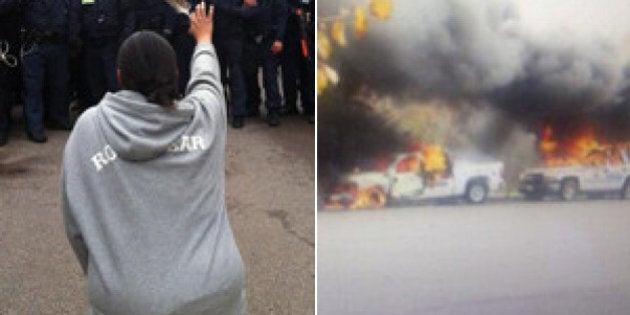 Anti-fracking protests, the growth of a movement, a hunger strike, an unprecedented turnout at a reconciliation walk and a disgraced senator — all of these aboriginal stories made headlines this year.
Here are five editors' picks, put together by CBC's Aboriginal Digital Unit.
1. Elsipogtoganti-fracking protests
Across the country this year First Nations have been making news in opposition to resource extraction. At the heart of resource development battles being waged right across Canada — including the one by Elsipogtog First Nation — is the duty to consult and accommodate aboriginal people when the development is on their traditional land.
The Elsipogtog First Nation began protesting on Sept. 30 with a blockade on Route 134 near Rexton, N.B., but it was the face-off with the RCMP on Oct. 17, 2013, that made news across the country.
Within 24 hours there were supportive actions organized across the country. In the process, the photograph picturing Amanda Polchies, kneeling with a feather raised in front of the RCMP, was retweeted and reworked countless times, making it an iconic image of 2013.
We haven't heard the last from Elsipogtog, and the First Nations opposition to resource extraction without consultation and accommodation will no doubt be in headlines in 2014.
The movement began last year, but it rang in the new year of 2013 with a bang. On Jan. 11, countrywide demonstrations brought attention to changes in Bill C-45, the Conservative government's controversial omnibus budget bill that directly affected First Nations communities.
While it seems that Idle No More has settled into a quiet simmer, there is no doubt that it continues to be a force across the country, and beyond Canadian borders.
In December, Foreign Policy magazine included the four founders of the movement in its prestigious list, Top 100 Global Thinkers. And recently, flashmobround dances took place across Canada, sending out the message that Idle No More will continue to be a presence in 2014.
3. Chief Theresa Spence's hunger strike
For many, the rise of Idle No More and the hunger strike of Attawapiskat's Chief Teresa Spence are closely entwined— both hitting the news in January 2013.
Spence camped on an island close to Parliament Hill, subsisting on fish broth and medicinal tea, in an effort to convince the country's top leaders to take First Nations concerns seriously — including the housing crisis in Attawapiskat in northern Ontario.
She ended her six-week-long hunger strike on Jan. 23, 2013, after members of the Assembly of First Nations and the Liberal and New Democrat caucuses agreed to back a list of commitments supporting aboriginal issues.
To date, Attawapiskat is still facing a serious housing crisis and Spence is standing firm as chief.
4. Vancouver's Reconciliation Walk
The Truth and Reconciliation Commission held a four-day national event in Vancouver, Sept. 18-21. It culminated in a Reconciliation Walk that drew an unprecedented number of people, more than 10,000 by some estimates.
"Who would have thought tens of thousands of people would brave pouring rain in September, to symbolically demonstrate a better relationship between aboriginal and non-aboriginal peoples," recalls CBC's Duncan McCue. This story was voted as one of CBC Vancouver's top stories of 2013.
5. Senator Patrick Brazeau
Finally, a disgraced senator might have been the most talked about aboriginal figure in mainstream news.
Named to the Senate in 2008 by Prime Minister Stephen Harper, Patrick Brazeau was a controversial choice right from the start, as he was facing a sexual harassment complaint before a human rights tribunal from his last job as national chief of the Congress of Aboriginal Peoples.
Brazeau first made the news this year In February when he was charged with sexual assault and spent a night in jail before posting bail. His Senate peers called for Brazeau to resign. The assault case was put over until February 2014 owing to Brazeau's health problems.
And then there was the Senate scandal. On Nov. 5, Brazeau was suspended from the Senate for two years, without pay, along with senators Mike Duffy and Pamela Wallin.
Most recently, Brazeau was denied press credentials to work as a journalist on Parliament Hill.
With files from CBC's Daniel Schwartz, Mark Gollom and Duncan McCue.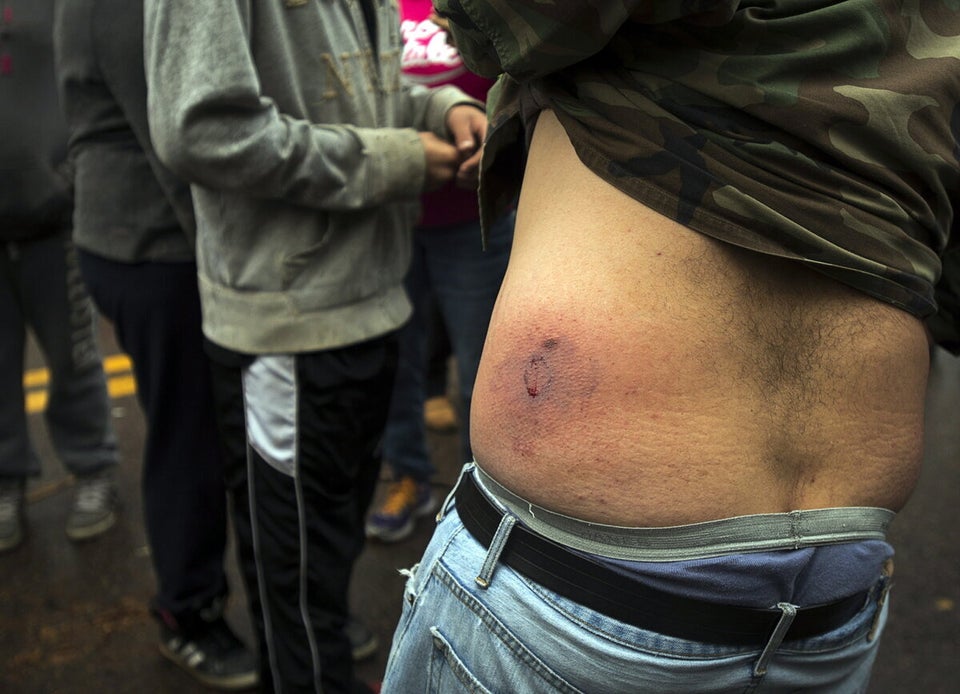 Elsipogtog First Nation Protest Fracking Projects