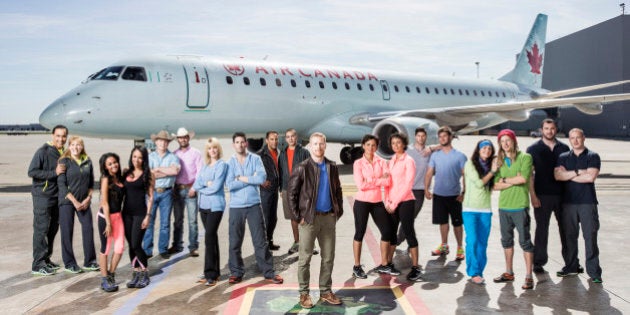 If you loved "Amazing Race Canada" in Season 1, then you're in luck. The fan favourite is staying the course for Season 2, with one potentially major change.
While the Canadian reality show competition exceeded expectations with its first season, for its sophomore run -- set to start up in the summer of 2014 -- showrunners and producers have some surprises up their sleeves. HuffPost Canada TV spoke with "Amazing Race Canada" senior producer Mike Bickerton, who filled us in on what's to come.
After sifting through literally thousands of online video auditions for Season 2 (applications are no longer being accepted), Bickerton promises that this season will outpace Season 1. But what will be different about it? What kinds of teams were Bickerton and the producers looking for? If these are the kinds of burning questions you have, then look no further.
How Happy Are You With Season 1?
"We all felt like we had an amazing show while we were shooting out in the field, but to get that kind of response from Canadians was overwhelming," said Bickerton. "I've been doing this for more than a decade, and 'Amazing Race Canada' gave just a staggering, staggering rating."
What Changes Are Afoot With Season 2?
Some aspects of "Amazing Race Canada" are staying the same; Bickerton was so pleased with how the teams turned out for last season, he's predicting that the Season 2 teams will have the same charisma and appeal. The producers want to keep the "Canadian humour" (you know what we mean) fresh and present.
"One of the big things that we've always wanted to keep in mind for the show is Canadian humour," said Bickerton. "Our show was fun and funny in Season 1, and it could be touching and heartfelt, but it always left you smiling. That's something we're going to be focusing on, for sure."
"We have one glaring problem going into Season 2," laughs Bickerton. "And that massive challenge is trying to best ourselves. The challenges have to be more difficult, scarier, funnier ... we're taking a look at the show as a whole and trying to amplify what we did."
Will The Contestants Be Travelling Outside Of Canada?
Since Bickerton is a senior producer, he really only deals with casting -- he isn't qualified to speak to the exact Race route.
"I'm not at liberty to say," said Bickerton. "The [Race] route is obviously our most highly protected treasure, and it's still being worked on." However, we did read in the eligibility guidelines that racers do need to have a valid Canadian passport, but that could just be for any sort of air travel. We're not sure, but it looks like we'll be seeing other locales [read: outside of Canada] this season.
What Sorts Of Teams Will You Be Looking For?
Young, old, siblings, couples. There is so much diversity in terms of applying teams. So what sorts of contestants do they want for "Amazing Race Canada" in Season 2?
"I don't think there's such a thing as too old," said Bickerton. "If somebody can do the medical and pass the physical requirements, then I'd love to have a set of 70-year-olds kicking some 20-year-old butt. But nobody loves like siblings and nobody fights like siblings -- they're always an entertaining team dynamic."
"But we always want contestants who are more than just what they look like on the outside," continues Bickerton. "For example, Jet and Dave [from Season 1]. At first glance, they were the obnoxious party guys, but they're actually really great, and they live clean, healthy lives."
"We're looking for teams with interesting stories and great relationships," said Bickerton. "On shows like 'Big Brother' and 'Survivor,' you have to be evil or devious. 'Amazing Race' is more a show about heroes, and about people like you and me who participate in these extraordinary challenges. We're also getting a lot of co-workers applying this year, which is a fascinating sort of relationship -- we didn't have any last year."
Will There Be Any Teams From The Maritimes?
One criticism that Bickerton frequently encounters is that there weren't any teams from the east coast of Canada in Season 1. (We here at HuffPost Canada got a lot of angry emails/comments about that too!) Will a team of Maritimers make the grade this time around?
"It's interesting about the east coast of Canada," said Bickerton. "Almost every [audition] video that comes in from the eastern provinces spends the first 30 seconds reminding me or telling me that we didn't have any east-coast representation last year. East coasters were pissed, even though we spent two episodes out there. I personally think the show is more about the places we go and the characters themselves, not necessarily where they're from. And I'm going to be honest here: we're getting some great videos from the east coast, but I'm not seeing an overwhelming response from there. I'm a bit surprised!"
Any Canadian Celebrities Make The Cut?
We all know how big a deal Team BodyBreak was going into Season 1. [We here at HuffPost Canada still like taking credit for it.] Other teams were intimidated, and audiences were beyond excited to see the Canadian fitness icons tackle the course. They were a threat, plain and simple. Bickerton says that yes, some celebrities have applied to be a part of Season 2, but he's not totally forthcoming about whether or not they'll be included in the cast.
"BodyBreak came in last-minute, unexpectedly, last year," said Bickerton. "We had a variety of teams audition that were high-profile in different ways. This year, I don't know if we'll have a 'BodyBreak' team. We're not looking for a celebrity couple just to have celebrities on the show. In Canada, it's so strange because we don't have a typical celebrity system -- our biggest stars are sports stars, music stars, maybe politicians to a lesser degree. We've had some Olympians who've submitted fantastic audition videos, too. We just want to find the best set of teams for that starting line."
"Amazing Race Canada" Season 2 will premiere in the summer of 2014.