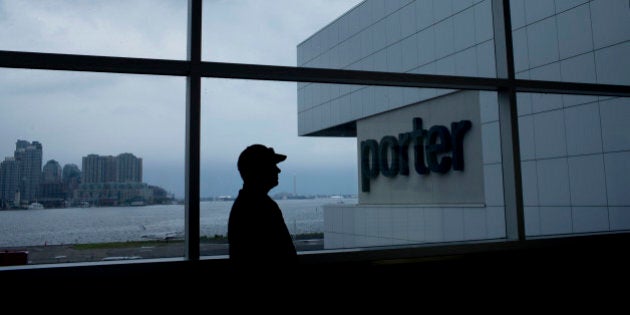 Porter Airlines says a perfect storm of winter weather, poor timing and a higher-than-usual volume of luggage are behind a rash of missing baggage and a swath of furious holiday passengers.
The airline is now trying to control the damage and appease angry travellers, some who are still without their bags and suitcases nearly two weeks after the troubles first began.
A pre-Christmas ice storm in Eastern Canada, responsible for hundreds of flight delays and cancellations, left some passengers flying into Toronto rerouted to Pearson or Hamilton, then shuttled to its hub, Billy Bishop Airport on Toronto Island.
The numerous cancellations and delays caused some planes to land in cities they shouldn't have and crews to work the maximum allowable overtime, Brad Cicero, a Porter spokesman, said Thursday.
That, combined with an unusually high amount of luggage, plus Christmas presents, and the requirement to carry extra fuel to operate safely during the winter, made the situation particularly difficult.
"With flights already extremely busy, it was difficult to move everyone and their bags as quickly as we wanted to. At this time of year, people typically carry more baggage than usual, which can also contribute to extra weight on some flights," he said in an email to Huffington Post Canada.
"We moved as many people and bags as quickly as possible with available resources. This includes chartering other aircraft to move baggage, adding scheduled flights and staff volunteering to work on days off or postponing holidays."
The airline is working to return the outstanding luggage in the next few days.
Cicero said Porter is "working on applying" what it learned from the experience.
"We want to improve passenger communication in certain cases, so that people better understand what is happening," he said.
Twitter Reaction To Porter's Luggage Delay Fiasco. Story continues after the gallery.
Disgruntled passengers still without luggage took to the airline's Facebook page to bash the company's customer communication.
"We have been without our luggage for 13 days and still have not been contacted by a person," Anne Connolly wrote on the airline's Facebook page Thursday.
"During this time we had a trip to the Dominican -- with no luggage and not even an offer of a toothbrush from Porter!!!"
On a post from Porter wishing followers a happy New Year, Ezra Phoenix replied: "How about welcoming home my two pieces of luggage that have been missing for two days. Yeah, happy new year!"
Others questioned why the airline was still having luggage issues even with all the power back on and why lost baggage was seemingly not an issue at Air Canada or WestJet.
The Airline says it's offering some passengers discounts for future flights of between $100 and $400 based on the degree of their inconvenience.
Inclement weather was also affecting some Porter flights on the Eastern seaboard Thursday, but Cicero could not say whether the luggage issue would continue as "every circumstance is somewhat different."
"Flights will operate normally almost all of the time, but this travel period can be more susceptible to all of these factors coming into play at once."
The debacle comes as the airline tries to convince the public it should be allowed to expand operations on Toronto Island and a year after it was ordered to rewrite its policies on lost baggage and delayed flights to make it clear it can be held liable for inconveniences, which is required by law.
Like this article? Follow us on Twitter