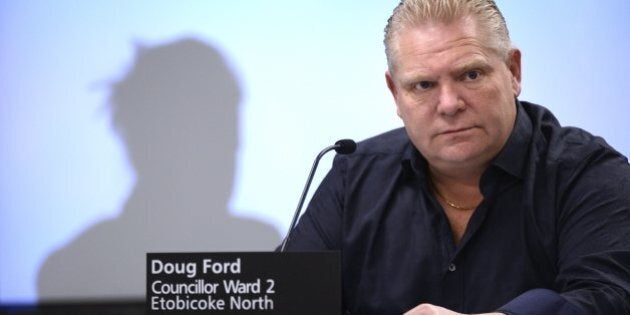 It seems Doug Ford hasn't given up on the dream.
It was announced Thursday that the outspoken Toronto city councillor will manage his brother's re-election campaign for mayor while also keeping his eye out for an Ontario provincial election, expected this spring.
"I don't want to say anything, but he could be the next MPP for Etobicoke North in a few months," Rob Ford said of his older brother.
"I'm pretty confident there will be a provincial election in the spring, and we'll see," Doug Ford said.
In some respects, this news isn't surprising. Doug Ford has long been rumoured to be interested in running for the Ontario Progressive Conservatives and was reportedly approached to run for the party in 2011.
In early November, Rob Ford denied his issues, including admitted drug use and "drunken stupors," would hamper his brother's political future.
"My answer on these questions hasn't changed. The party has a process for determining who candidates will be. We don't know when the election is going to be," Hudak told reporters in November.
"But look, a lot has happened in the last few weeks and I suspect a lot more is going to happen in the weeks ahead. We'll cross that bridge when we come to it."
But some are warning Hudak that the risks involved in a Doug Ford candidacy are not worth the potential reward of one Toronto seat.
"By forcefully distancing himself from someone like Doug Ford, Hudak would, by comparison, make himself seem more moderate and palatable to the centrist voters he actually needs to win the next election," Grenier wrote. "By not ruling out the possibility of a Doug Ford candidacy, Hudak instead appears to be lacking good judgment."
Around that time, Rob Ford told the CBC's Peter Mansbridge that, unlike federal Finance Minister Jim Flaherty, Hudak did not call to offer him support when the crack scandal erupted.
"I don't really know Tim Hudak that much," Rob Ford said.
"But do you think he's deliberately not calling you?" wondered Mansbridge.
"I don't know," Rob Ford replied. "I can't talk for Tim."