Kate Upton just can't stop wearing her teeny tiny bikinis!
The bodacious Sports Illustrated swimsuit model covers two V magazine covers for their February 2014 issue which shows the 21-year-old strip down into a sexy two-piece.
On one cover, the Vogue cover girl proves just how chameleon-like she is by (almost) covering up in a skintight Nicola Formichetti for Diesel denim ensemble with Brigitte Bardot hair, cementing her status as a versatile, high-fashion model.
The twist? The issue has peel-back acetate so when you lift it up, you get to "take off Kate's clothes" to reveal her print bikini. Genius? Or a bit creepy? We can't decide.
"Why Can't Kate Upton Keep Her Clothes On?" reads the tagline on the cover. Here's a better one: Why do fashion editors keep putting Kate in swimsuits? (Okay, we know the answer to that one, but still!)
For V editor Stephan Gan, putting the Louis Vuitton muse on the cover was an easy sell (the mag has already featured Upton four times). He told WWD:
"Each time I saw her at a shoot, she had become a bigger and bigger star, and her physique, more and more notorious," Gan said. "It has always intrigued me, as I'm sure it has to most readers, how someone gets embraced by the general public for taking their clothes off and loved by the fashion world for keeping them on."
We're sure plenty of Kate will fans will have tons of fun pretending to take off her clothes!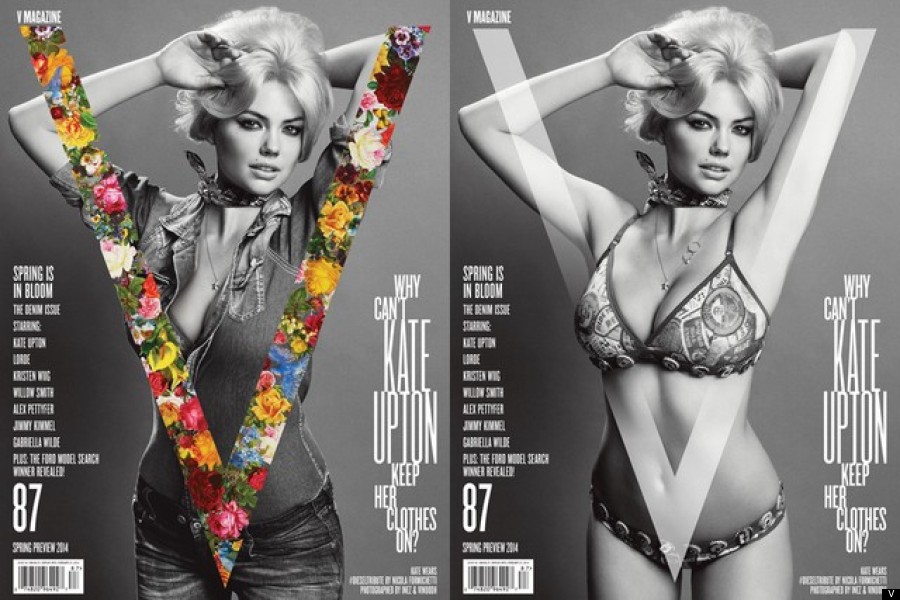 Also on HuffPost