Adolf Hitler's hate-filled political autobiography "Mein Kampf" has become a bestseller in the e-book world, prompting Jewish leaders to call on publishers to stop profiting from the book.
"Mein Kampf" was the best-selling e-book on iTunes Canada's politics and current events section as of Wednesday, the Toronto Star reports.
The Huffington Post Canada's own scan of the list Thursday morning found that three different versions of "Mein Kampf" occupied the top spots on the politics and current events section. On the list of all books sold, it ranked 64th.
Story continues below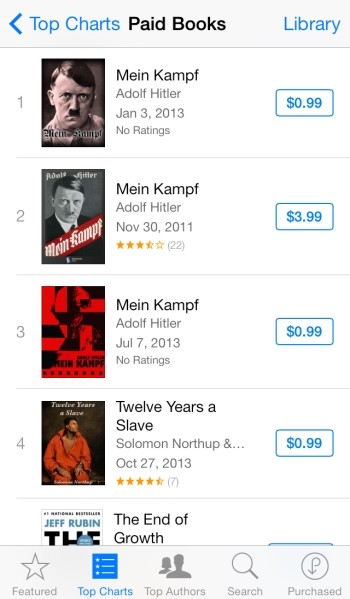 But its soaring popularity is not limited to Canada. Two versions of the book were in the 12th and 15th spots on the U.S. iTunes politics and current events list, ABC News reports.
And it's not just iTunes users who are buying the book. Journalist Chris Faraone of Vocativ.com, who originally reported on the phenomenon, notes that it's the top-selling book on Amazon's propaganda and political psychology list.
Faraone doesn't believe the book's resurgence marks a renewed interest in Nazi ideology. He thinks it has to do with the fact that e-books can be bought and read entirely in private, allowing curious people to buy a book they would otherwise never be seen in public buying:
Mein Kampf could be following a similar trend to that of smut and romance novels. People might not have wanted to buy Mein Kampf at Borders or have it delivered to their home or displayed on their living room bookshelf, let alone get spotted reading it on a subway, but judging by hundreds of customer comments online, readers like that digital copies can be quietly perused then dropped into a folder or deleted. "I think I waited 45 years to read Hitler's words," writes one reviewer. Another sums it up thusly: "Curiosity killed me to get this book."
Whatever the reasons, Jewish advocacy groups are upset at the phenomenon.
"While the academic study of Mein Kampf is certainly legitimate, the spike in ebook sales likely comes from neo-Nazis and skinheads idolizing the greatest monster in history," World Jewish Congress CEO Robert Singer told ABC News.
"We think that responsible companies shouldn't profiteer from the sales of hate books, or at least should donate the profits to help the victims of anti-Semitism, racism and other like bigotries."
But Elite Minds Inc., the California-based publisher that put out a 99-cent version of "Mein Kampf" last year that Faraone credits with the book's sales surge, disputes that notion.
"The popularity of the digital Ford translation of Mein Kampf has surged due to academic interest in the subject." company president Michael Ford told ABC.
Ford reiterated the argument that the book's sales can be explained by the lesser "stigma" of buying a controversial e-book.
Vocativ.com notes the last time Hitler's book was a bestseller in the U.S. was when it was first published there in 1939, "and its print sales have fallen steadily ever since."
The original, German version of Mein Kampf came out in two volumes in 1925 and 1926. Hitler wrote the book while in prison for the failed Beer Hall Putsch of 1923.
The book is banned in Hitler's native Austria, Russia and some other European nations. It's not banned in Germany, where the Bavarian government owns the rights to the books and kept it out of print until last year.
Also on HuffPost