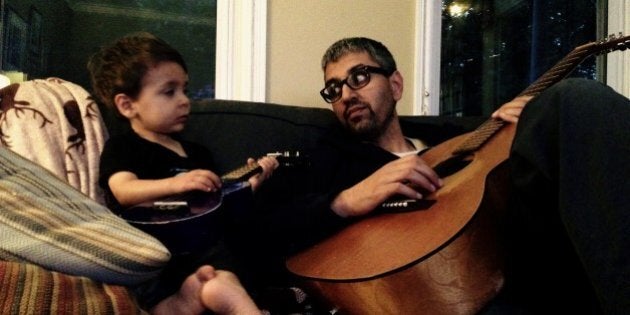 Before you have children, you hear a lot of horror stories, mostly from people who raised a kid forty years ago. There's the standard stuff about never sleeping again, eating discarded, unappreciated food, and watching your home and possessions subject to random destruction and vandalism.
But the scariest thing for a music fan (and writer like myself) was the prospect of being inundated with corny kids' songs ad nauseam.
Maybe my priorities were out of order but for a while there, it did seem as though I might lose my mind. Raffi rules and the Wiggles mean well but there's only so much a man can take before he wants to take a trip to Belize. But then something special happened with my boy.
He turned into a complete sponge who wants to experience and appreciate everything we do. (Our most recent and likely fleeting victory has found him wanting to watch "Fantastic Mr. Fox" every day instead of "Team Umi Zoomi.")
We've almost always sung to our son and one day early in his life, during our regular rotation of "Baby Beluga" and the ABCs, I snuck in Bob Dylan's "The Man in Me." I remember him staring at me, captivated by the flurry of new words housed in this foreign melody. When I finished singing the last "la la las," he said nothing.
And then, quietly, "Again."
Ever since, I've fearlessly sung or played my boy almost whatever was on my mind and when something elicits a coveted "Again," he hears it again and again. The following is a list of songs my two-and-a-half-year-old requests the most.
In virtually every case, we've discovered that he knows all of the words and will just randomly begin singing each one when the mood strikes. There are some dark, lusty songs here but everything seems fun and innocent when rendered by a toddler.