Ottawa police may be hunting a serial rapist.
Citing police sources, the Ottawa Sun reports a series of sex assaults share several common details -- too many to be dismissed as coincidence.
On Monday night, a 25-year-old woman walking from the Heron Transitway station was grabbed from behind and dragged through a children's playground, where she was raped in the bushes.
Police describe her attacker as having short, dark hair, between 20 and 30 years old, around six feet tall and having a medium, athletic build -- a description shared in at least two previous attacks.
The assaults occurred over the last 17 months -- and there are concerns that the individual may be responsible for seven more attacks in the area, according to the Ottawa Citizen.
In the three linked cases, police say the victims were choked -- and that the suspect may show "a preference for this type of behavior in his personal and intimate relationships."
This week, police released renderings of a single suspect linked to at least three of the sex assaults.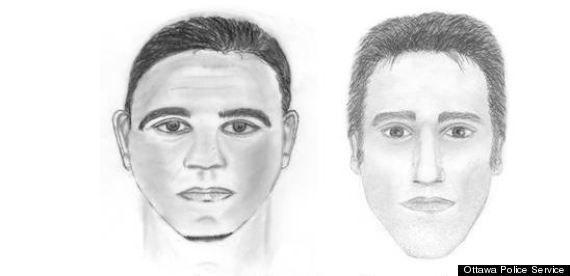 "We are asking the public to take at look at the two artist's rendering of the suspect, read his description and the description of the crimes and consider whether this is someone they know and whether they have information about these cases," Ottawa Police Chief Charles Bordeleau said in a statement. "Someone knows this individual and may even suspect something already. We need their help to protect potential future victims and to identify the individual responsible."
An announcement on the hunt is expected Friday morning.
Also on HuffPost