Who knew the antidote to engagement-photo fatigue would be, well, more photos.
After San Francisco couple Marian Schembari and Elliot Speed got engaged, they didn't plan to do engagement photos. In fact, the pair loathed the cliché cookie-cutter photoshoots so much, they even made a Google Doc of their favourite "overused" poses to poke fun at.
So when Schembari's friend Malia Moss, a former portrait photographer, heard about the document, she offered the couple an irresistible chance to mock "indistinguishably formulaic" poses with some good old-fashioned gender-swapping humour.
Story continues below slideshow: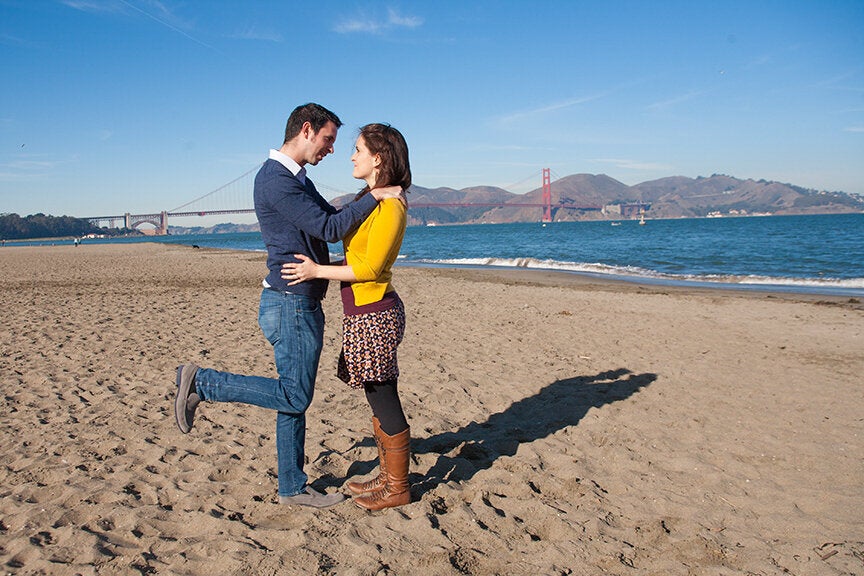 Marian And Elliot's Epic Engagement Photos
"We made a plan to go out one weekend and see what happened," Moss told HuffPost Canada. "We would either think of something funny to shoot or remember the general idea of an overused pose then try to recreate it in a humourous way."
Their mission: accomplished. Their hilarious photos spoofed classic poses such as the man-carrying-woman on a beach shot, glamorous ring-bling close-up, and the bride-to-be's coquettish look up toward her betrothed.
While we had the attention of a recovering wedding photographer, we couldn't resist asking: what is the worst pose possible?
"The most awful of engagement poses has to be the rolling on the ground laughing shots," Moss said, confessing, "I'm guilty of shooting those photos myself as well."