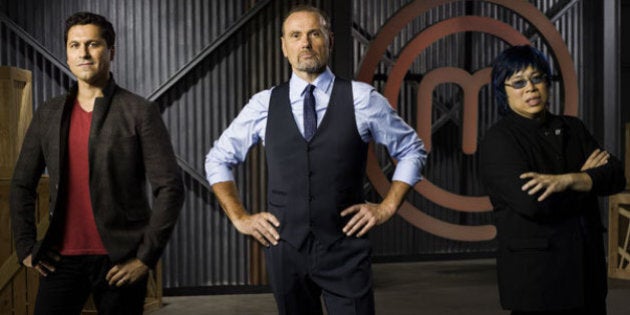 Canadians' appetite for food TV -- and melodramatic chef competitions in particular -- will be put to the test this year with yet another home-grown reality show added to the mix: "Masterchef Canada."
The popular international series, which debuts in Canada on January 20, 2014 on CTV, promises high-stakes theatrics and delivers in a tear-jerking premiere which features 50 home cooks' desperate attempts to win three notable judges over with their first dishes.
Besides throwing into the fire some endearing contestants -- a teacher who gave up her job to compete for the $100,000 prize, a plumber and single mom, a mother of three in a wheelchair and a housecleaner who fancies himself the gay Martha Stewart of Canada -- the show is also a pressure cooker for the three judges to make names for themselves in their first big-time TV roles.
Hong Kong-based Alvin Leung is the badass "Demon Chef" with punk style and blue hair whose attitude could stand up to Gordon Ramsay's. The snarky self-taught chef, who holds four Michelin stars (three at Bo Innovation in Hong Kong, one at Bo London) grew up in Scarborough, Ont. He's complemented by Toronto culinary hotshots, U.K.-born Michael Bonacini and Uruguay-born Claudio Aprile, who are both steadily building their local restaurant empires — the Oliver and Bonacini restaurants, and OrderFire— and bring their respective gentlemanly and approachable sensibilities to the table.
We spoke to all three judges at the start of the "MasterChef Canada" production in the fall about their judging personas, what it will take to win the title of MasterChef Canada and the country's current food-obsessed culture.
So, who's going to be the mean judge?
Leung: I think we judge by the style of cuisine we do, and we also judge by our personality and I'm Asian, Chinese, and Chinese are always very tough. Instead of encouragement we tend to tell people what's wrong instead of what's right... And of course I'm tough, that's why they call me the "Demon Chef." But I'm fair, and I'm not going to intimidate or bring them down so much they can't get up. I'm not going to floor them. I think they need to go back sometimes, I need to put them back one or two steps because when you go back a step you can see what you have done. When you go forward, it's past you now. That's my philosophy. He's a softie (gesturing toward Aprile).
Bonacini: For me, my personality, I don't think is going to change. I am who I am… I'm a big guy so that alone is somewhat intimidating.
Aprile: Looks can be very deceiving. (Laughs) I think we all have things that will push our buttons differently. Different errors perhaps that might really get under our skin. I don't think that any one of us is predictable and that's what I think is going to make the show intriguing to watch. I don't think anyone's going to be the bad cop or the good cop.
What will it really take to impress you on this show?
Bonacini: For me I am looking for really great food, food that has been prepared extremely well, that shows their desire to win, their passion, some degree of technical ability. I want them to be open-minded to listen to the feedback and commentary and criticism of the judges. Taking a home cook and turning them into a "master chef," it's a process.
Aprile: Well, unlike Alvin, I've moved past that. (Laughs) I'm looking to more progressive styles of cooking now.
Bonacini: He leads, the rest follow.
Aprile: It really all comes down to whether or not you're creative or not... I do strongly feel that without a real drive and just a sense of curiosity, cooking can be very flat. We live in an information culture and it's one thing to have information, but knowledge is very different. We're looking for chefs that have that knowledge that drive and are able to handle the heat, because the pressure they're going to be put under on the show, at times, it's going to crush them. It's very intense. These are real competitions. We're not acting. That's the thing that makes the show so authentic for us, is that we are judging dishes based on flavour. There's no script and I find that really fascinating.
Do you think you're going to be harder on some of these chefs than you would be with those in your own kitchens?
Aprile: I'm going to be very tough but I'm not going to humiliate them, I don't want to embarrass them, I want them to learn from it, and that's really I think what sets this show apart from so many other reality formats, is that this is not a show, a platform, where you're going to take someone and humiliate them. Because I just find that it's awkward to watch and it's not our style. I don't manage my company that way.
Alvin, what does it take to impress a Michelin-starred chef?
Leung: I would say something above the ordinary, because you know they are home cooks, so they're not coming out of culinary school. I have to take my standard down maybe just a notch. I don't expect any Michelin-star dishes bang right away, but I may be surprised. But when I say above the ordinary, (it means) we want to elevate them.
By the time we handle them, bash them, throw them around, toss them, shake them, they will be coming up with Michelin-star dishes, which means once you raise the bar you know become above the ordinary.
What do you think about the food worshipping culture in Canada now?
Leung: I came here in 1965 (from London, England), saw the Leafs win the Stanley Cup and thought there would be many more to come, I was wrong there... At that time chicken wings were virtually free. You could go the butcher and ask for chicken wings, they would just give it you because everyone only ate breasts… It has gotten very sophisticated and it's changed and because Canada was always known for different cultures, you have heavy Italian culture, Jewish culture, German culture, French culture and not just from Europe but from Montreal, and then you have Asian culture which is rapidly growing. Then you have the east and you have the west.
I don't think you should worship or be obsessed with anything. I think things should be done with moderation and balance. Chinese are very much about yin and yang, we're very much into balance. We don't want anyone worshipping. I know Claudio wrote me all those letters and I say Claudio, you know, you don't have to write me so many fan letters…
Claudio: I don't think the timing of "MasterChef Canada" could be any better. I've been cooking for almost 30 years, mostly in Toronto, and in London, England and New York as well, I've never experienced such enthusiasm for cooking as I have now in this city in particular. So I think the timing it's the perfect storm really to have one of the most successful culinary reality shows in the world arrive in Canada and that's really evident in the quality of the home cooks that we have found. Some of the techniques that we're aware of are very elevated. Five years ago I don't think you would have seen this level.
We now live in a culture in Toronto where everyone is photographing their food, it's become the norm to do that. There was a time when I used to get upset when someone would pull a camera out in my restaurant and start taking pictures of all their food and now if they don't do it, I start to wonder, "Did I do something wrong?"
Bonacini: I feel great about it. I think lots of home cooks watch great TV, cooking shows, reality TV, and it's their peek into an industry that they're fascinated by.
When did you all start cooking?
Bonacini: My parents were in the hotel business so I grew up with it, I was very young. We had to help washing dishes, cleaning rooms of the hotels, etc., so for me it's part of my DNA.
Aprile: I told my mother when I was five that I would be a chef, not that I wanted to but that I was going to become a chef, that's all I've ever done, all I've ever wanted to do.
Leung: My mother was a horrible cook, really really bad, so I found out that when I was probably about eight or nine that I better cook for myself or I'll be eating this -- excuse this expression -- crap for the rest of my life.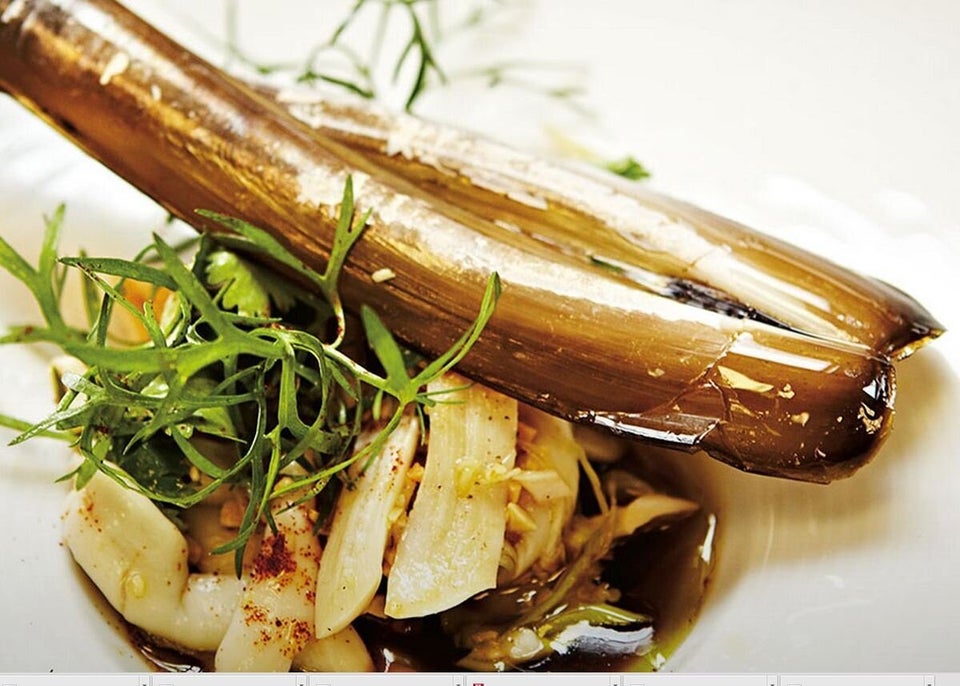 Best Restaurants in Canada