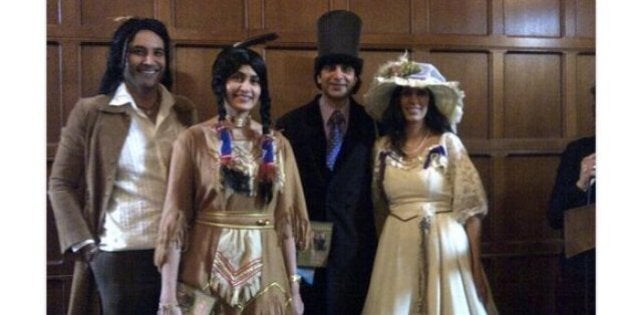 If there's one historical prime minister all Canadians can name, it's probably Sir John A. Macdonald, the first leader of this country and a man whose 200th birthday is coming up next year. But as Steve Paikin discovered, just because a man is from the past doesn't mean he's beyond controversy.
At a 199th birthday party held in honour of Sir John A. Macdonald at the University of Toronto last week, costume prizes were awarded to a couple who dressed up as aboriginal people, tweeted by TVO host Steve Paikin:
People on social media were quick to take note and jumped to berate Paikin, saying the couple in the photo are practicing "redface", referencing "blackface" where a person appropriates someone else's culture for their own entertainment.
Paikin has been battling people on Twitter ever since, and took to his blog to explain his stance, calling it a "teachable moment". He defended the costumed pair, stating they "didn't intend to offend, aren't from here, had no knowledge of this chapter of Canadian history, and moreover, aren't white."
CBC radio host Niru Kumar also tweeted out the photo and added "Two costume prize winners: Indians from Mississauga (both literally & in costume)!". She later took down her tweet, saying:
Many also pointed out that Macdonald was also a fierce racist and enacted policies that contributed to the decimation of First Nations communities across Canada.
Paikin also wrote a blog post explaining that one of the women who wore the costumes was American and wasn't fully aware of the fraught history between Canada's founding prime minister and First Nations. Paikin also noted that the event tried to address some of Macdonald's problematic history.
Canada.com's Lauren Strapagiel wrote that the organizers of the Macdonald event acknowledged that they may have made mistakes and would be "smarter next year"
Here's a look at what more people in the Twitterverse were saying about the image:
Do you think the outcry was warranted? Let us know in the comments below