All it takes is one look at this ad for Lego from 1981 to feel that warm glow of nostalgia as you recall how amazing those tiny plastic blocks are, and how they helped you create whole worlds. But then you might notice it's a little girl holding those blocks, and there's not a speck of pink to be seen.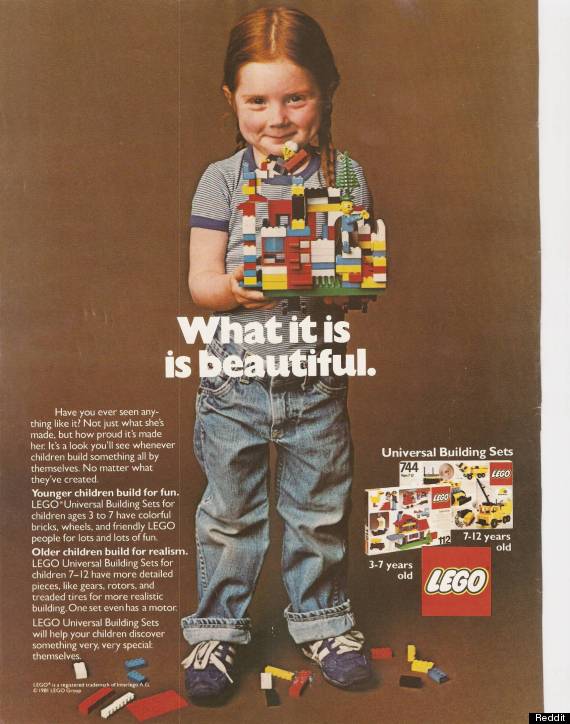 This image, posted on Reddit yesterday without further comment, brings to attention the disparity between how kids (and parents) received messages about "appropriate" toys 30 years ago, and what they see now. It's virtually impossible to enter a toy store and not notice the aisles of pink for girls versus the aisles of pretty well any other colour for boys. As one little girl put it in an amazing viral video from 2011, "it wouldn't be fair for all the girls to buy princesses, and all the boys to buy superheroes!"
Upsettingly, even Lego has bought into the hype of marketing specifically toward either gender, with a remake of this very ad last year that showed a girl holding her creation — with a healthy dose of pink. As PrincessFreeZone.com puts it, "[The] 1981 ad doesn't identify which gender the Legos are actually for; instead, it allows for all children to be included in imaginary play. [Whereas the new] ad continues to perpetuate the marketing scheme that there are toys for girls and toys for boys."
Fortunately, some toy companies are pushing for gender neutrality in their offerings. As of 2013 in the U.K., Toys "R" Us catalogues will only feature ads showing boys and girls playing with the same toys, inspired by Sweden's decision to do so the year before, the National Review reports. The same goes for Marks & Spencer's toys as of spring 2014, notes the Guardian.
Also on HuffPost
Brands That Have Been Updated To Be More "Girly"