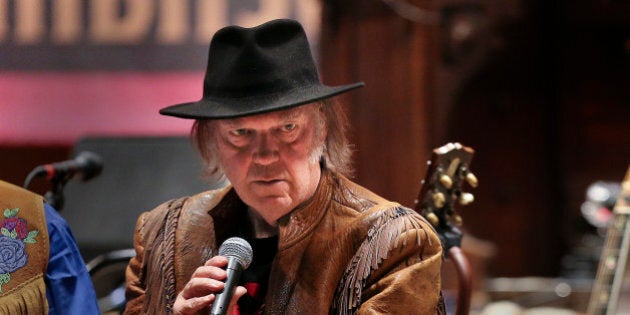 As Neil Young continues his Honour The Treaties tour, his opponents are attempting to poke holes in his beliefs regarding the Alberta oilsands development. But it's not stopping Young from voicing his opinions or raising the stakes on his analogies.
"We can preserve what we have so we can say, 'We did the right thing.' If we don't, it's just going to look like the moon in Alberta," CTV News reports Young saying during his Winnipeg stop on the trek, hours before taking the stage at the Centennial Concert Hall. "It is like a war zone, a disaster area from war, what's happened up there. It's gone."
Young later said he didn't "feel really good" about the Keystone XL pipeline as most of the oil in the pipeline would be sent to China.
The Winnipeg Free Press also reported Young admitted he wasn't an expert on the oilsands production and its effects but said "your profession doesn't limit your freedom of speech" and "it's OK if you want to dismiss me because I hit a power chord."
The statements are certainly irking oil companies with Dave Collyer, president of the Canadian Association of Petroleum Producers stating Young is wrong. "His rhetoric is ill-informed, it's divisive, and I think it does a disservice to Canadians, including those First Nations that he's ostensibly trying to help." Collyer also invited the musician and Chief Allan Adam of the Athabasca Chipewyan First Nation to meet with him in Calgary.
"I think his statement stems quite consistently from a lack of understanding of the oil sands and a lack of understanding of the realities of the energy mix in North America," Collyer also told reporters. "Young also fails to acknowledge the many significant successes, whether that be First Nations jobs, contracts, cultural programs, infrastructure and in many cases quite deep and enduring relationships that have been established between our industry and the First Nations and the oil sands."
Another critic was Saskatchewan Premier Brad Wall who deemed Young's comments to be insensitive and ignorant, adding Young lost a lot of credibility with his recent pronouncements.
Meanwhile, fellow Canadian musician and Blue Rodeo singer/guitarist Jim Cuddy was a bit perplexed by Young's comparison of the oilsands to Hiroshima as Young did last September in Washington, D.C.
"He's grossly exaggerating," Cuddy told the Missinipi Broadcasting Corp, a First Nations radio outlet based in Saskatchewan according to a CTV Winnipeg report. "Nobody can say that any kind of open-pit mining -- whether it's oil, shale or whatever -- is beautiful. I'm not sure this is about aesthetics. It's about clean water, clean air and economics. You have to appreciate that Neil in his own extreme, crazy way has begun a dialogue that we have to have in this country."
Young's tour continues this weekend with stops in Regina today (Jan. 17) before concluding in Calgary. Young will reportedly hold a press conference in Regina at 1 p.m. local time.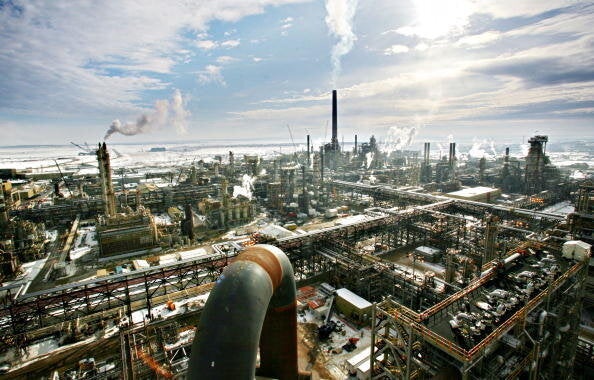 The Craziest Photos Of The Oilsands