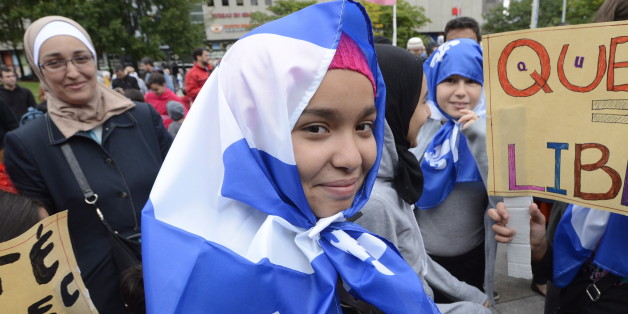 CP
MONTREAL - The province's human rights commission says many provisions of Quebec's proposed values charter are unlikely to withstand legal challenges and would only serve to create more confusion than clarity.
Commission president Jacques Fremont said the bill foreshadows a sharp decline in individual rights and freedoms and would likely create the perfect climate for more conflict and litigation in Quebec society.
It concludes that much of the proposed legislation would have to be heavily modified before it could be deemed compliant with the Quebec Charter of Rights and Freedoms.
"In some cases, it passes the threshold and in others it doesn't," Fremont told a news conference Friday.
The commission was due to testify at a later date at public hearings on the values charter but Fremont went public with his organization's memoir after parts of it were leaked in a newspaper.
The charter, known as Bill 60, has created a deep rift in Quebec. Some have welcomed it as a necessary measure while others have blasted it as a source of division and a political ploy to turn attention away from more pressing matters.
Parti Quebecois Leader Pauline Marois campaigned during the 2012 election campaign on an emotionally charged pledge to introduce a "Charter of Secularism," notably aimed at restricting Islamic headwear in public institutions.
Bill 60 would forbid public employees from wearing visible religious symbols including hijabs, turbans, kippas and larger-than-average crucifixes.
The mandate of the human rights commission was to analyze the proposed legislation. It predicts the bill would trigger confusion and an avalanche of legal challenges.
Fremont said the tools that exist now are sufficient. His office receives 2,500 complaints a year, with those relating to reasonable accommodation making up less than one per cent of that number.
The commission has concerns about proposals that would amend the provincial charter of rights, saying the changes would weaken it. About half of the more than 100 pages in its brief are dedicated to those reforms.
The charter of rights and freedoms is the best tool as it has already been through rigorous court challenges and has been tested repeatedly over the years, Fremont said.
"It is our clear reading that the (rights) charter is sufficient to deal with all the issues that are raised actually," Fremont said. "If it's not perceived as sufficient by the legislator, so be it."
But Fremont stopped short of expressing any firm opinion on the legislation, saying it wasn't in the commission's mandate.
"We're not there to tell them what to do," Fremont said. "It's clearly for the Quebec national assembly to make up its own mind."
The PQ government has insisted it won't back down on the values charter and is ready to make it an election issue if need be.
The plan has fuelled heated debates in the province since it was unveiled last year and some opponents believe the minority PQ could use identity as a wedge issue in an election campaign.
Government hearings on the values charter began Tuesday and are expected to last two months. As many as 200 individuals and groups are expected to appear.
Some have commented that Bill 60 infringes on personal freedoms and violates the federal and Quebec charters of rights, which guarantee freedom of religion.
But the PQ has called it a way to shield the province from what it describes as encroaching fundamentalism. It also believes Bill 60 would provide protection against gender discrimination.
On Friday, another organization added its voice to the debate, calling on the government to replace Bernard Drainville, the cabinet minister who is spearheading the legislation.
Quebec Inclusif said Drainville doesn't understand the legal ramifications of Bill 60. The government has not yet released any arguments or opinions that indicate the legislation would be legal.
The lobby group — a mix of federalist and sovereigntist voices opposed to the charter — said Justice Minister Bertrand St-Arnaud would do a better job, saying he's more "competent" because he's a trained lawyer.
Spokesman Remi Bourget said Drainville is acting irresponsibly by rejecting the legal opinions of the Quebec Bar and the human rights commission.
"The impression we have with Bernard Drainville is that it goes in one ear and out the other," Bourget said. "In the judicial community, there's a quasi-consensus this legislation doesn't respect the Constitution and would be deemed illegal.
"When the Bar comes forward and says that and Drainville, who is not a lawyer, starts to lecture them on it, we find this astounding."
Meanwhile, the Liberal justice critic suggested St-Arnaud step aside from the justice portfolio if the legal opinions aren't made public. St-Arnaud called that request crazy.
Premier Pauline Marois declined to comment on the charter when questioned about it on Friday at a funding announcement in Montreal.
Earlier this week, Marois denied wanting to fight an election over the controversial values charter in an effort to get a majority government.