Everyday life in the oilsands has a surreal tone most of the time.
But when it's gripped by a polar vortex, it's simply other-worldly.
Neil Young's quest to tar the oilsands this past week has forced many to ask themselves where they stand in the development of the Athabasca olisands, increasingly a controversial topic.
But what is a certainty is that the Athabasca region can be absolutely punishing, and daunting, in the middle of winter. The cold spells plunge deep and stick around for weeks.
What is also certain is that when cold spells, such as the polar vortex that grasped the continent just weeks ago, with weather that is typical most winters in northern Alberta, those who ply a living from the frozen reaches of Fort McMurray or the greater Athabasca region, don't skip a beat.
Story continues below photo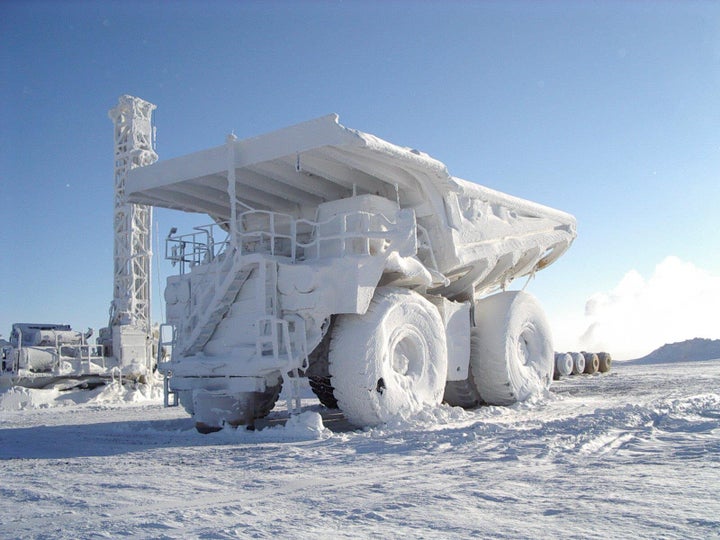 In the midst of the long, unforgiving winter months of northern Alberta, men and women brave the elements and apply great finesse to some of the biggest and most powerful pieces of machinery in the planet.
Others apply careful chemistry and survey science in the midst the debilitating chill and mounting snow.
When it's this cold, life in northern Alberta doesn't stop; the landscapes just get more surreal, and necessity and ingenuity become inseparable partners.
Story continues below video
Fort McMurray rang in the New Year with a low of -38C - that's before windchill - a week later it was still -34 and a week after that, it was in the low minus 20s.
That perpetual cold, deep snow and industrial installations that would look more at home in the surface of Mars than in the boreal forest, make for some staggering photography.
Click through the slideshow below for some amazing photos of the oilsands in winter.