Humane Society
The preliminary investigation into the deaths of a husky and a kitten found muzzled and dead in a Calgary alley has revealed the animals had a history of traumatic physical injuries, according to the Calgary Humane Society. 
"[There were] old fractures, new fractures, so it looks like there had a been a history of abuse in some form or fashion," said the humane society's Christy Thompson. 
More details are expected to be released Tuesday morning, said Thompson. 
The society released information on the Siberian husky last Thursday, hoping it would lead to tips from the public. The two-year-old dog had been found emaciated the week before. Its mouth had been taped shut with clear tape in a Willow Park alleyway that backs onto a park. 
The six-month-old cat was found the day that information on the dog was released. A young girl found the cat about 10 metres from where the dog was found.The short-haired black and white cat had green painter's tape over its mouth and nose. 
Reward grows to nearly $60K
The reward to catch whoever was behind the two cases of animal abuse has grown to almost $60,000.
Greg Habstritt, with Calgary veterinary clinic Vets to Go, said the company initially put up $5,000 hoping donors would match it. By Tuesday morning, the public had donated an additional $54,000. 
The group is now asking donors if the reward in this case should be capped and the rest used toward long-term solutions like legislation and enforcement.
Minister calls for tougher penalties 
Long-term solutions are something Jonathan Denis, Alberta's solicitor general and justice minister, says are the most important.
***WARNING: GRAPHIC PHOTOS BELOW***
"The province has legislation that involves a fine of $25,000 and a lifetime ban for someone to own an animal, but where the rubber really hits the road is with the federal Criminal Code power," he said.
"Currently there is a legislation that permits a judge to give a five-year jail term for cruelty to animals."
Denis says he plans to write to the federal justice minister to discuss mandatory minimum jail times similar to ones imposed elsewhere.
He says any reward money should be secondary. 
"I think everyone has an obligation to protect animals regardless of whether there's a reward or not," he said.
The Calgary Humane Society agrees, saying large rewards like this are so rare that it's hard to tell if they actually propel people with information to come forward. 
Calgarian Shalane Pryce is holding a justice walk this weekend to demand tougher animal cruelty laws.
"If we can be a big enough voice, we can get other cities, other provinces, to join in and make a change," she said.​
***GRAPHIC PHOTOS***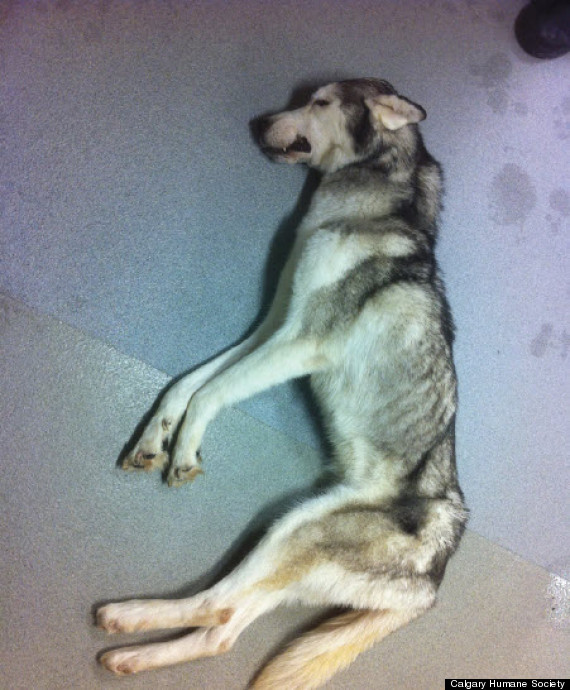 Also on HuffPost
Protesting Animal Cruelty Around The World