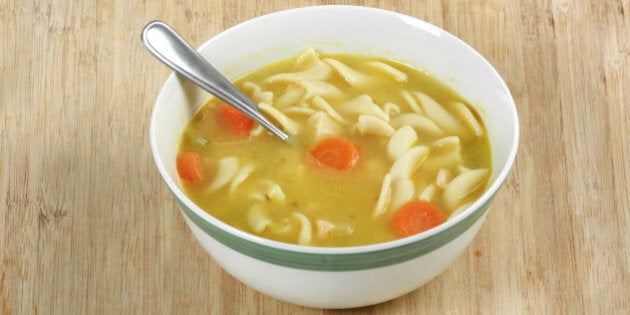 LONDON, Ont. - Anywhere in the world there are chickens, there's bound to be chicken soup.
Recipes vary widely, but regardless of the country or culture, chicken soup's reputation as a comfort food — good to eat and good for what ails you — seems to be universal.
"It must be its soothing smell which makes it appear therapeutic to mothers of all persuasions," says Byron Ayanoglu, co-author with Wandee Young of "Simply Thai Cooking," which includes, of course, a recipe for traditional Thai chicken soup.
"Jewish, Mexican, Greek, Canadian — all mothers agree that whatever is wrong with their kids will be put right with a bowl of chicken soup," he writes in an email from his winter home in Turkey. He spends his summers in Ste-Adele, Que., 80 kilometres north of Montreal.
"Having had it and loved it as children (by far the best part of being sick as a youngster) we crave it as adults, whether we are feeling out of sorts or simply hungry for some comfort food."
Norene Gilletz of Toronto, a food writer and author of numerous cookbooks featuring Jewish recipes, strongly believes in its restorative properties and subtitles one of her classic chicken soup recipes "Jewish Penicillin." She says in a telephone interview that her chicken soup helped clear up the congestion of a friend who had pneumonia.
"They say it's medicinal, but (whether it is or not), it does make you feel better."
Scientists agree it may do some good but aren't sure why.
"Chicken soup, a popular home remedy for the common cold since at least the 12th century, may really help," says a report from the U.S. National Library of Medicine.
"The steam from chicken soup may open up congested noses and throats. Soup also provides fluid, which is important for fighting infection. Some researchers suggest that substances in chicken soup reduce the inflammation associated with the common cold, thus providing some relief of symptoms."
But the statement is far from definitive.
In a 2007 review of scientific research into chicken soup, the New York Times reported: "None of the research is conclusive. ... However, at the very least, chicken soup with vegetables contains lots of healthy nutrients, increases hydration and tastes good, too."
The worldwide popularity of the dish reinforces this notion, but the ingredients used to create it are as diverse as the nations themselves.
In Greece, the classic chicken soup is avgolemono, literally egg-lemon soup. It is a creamy combination of chicken and rice with the distinctive taste of lemon.
"For a truly Greek restaurant, avgolemono soup is the supreme soup," says Heidi Vamvalis, co-owner with her husband Bill of Mykonos Greek Restaurant in London. But it's also a staple in Greek homes, she says, although like here, the traditions of home cooking in Greece aren't as strong as they used to be.
Ayanoglu's recipe for coconut chicken soup (tom kha kai) "uses many of the signature ingredients of Thai cooking in combination with each other: lemon grass, galangal root (a relative of ginger), nam-pla (fish sauce), lime leaves, coconut milk."
"As such, this soup can sincerely be said to exist only in Thai (and the related Lao) cuisine," he says.
Gilletz says there are many variations of Jewish chicken soup. "Everybody has their own spin on it, depending on how their mother made it."
But one thing that makes it unique is the usual use of a chicken "that has been salted to kosher it, so it has much more flavour." Another is that in many Jewish soup recipes, large chunks of vegetables — whole onions, half carrots, celery stalks, parsnips, turnips, cauliflower or red pepper — are cooked to make the broth but then strained out and served on the side or discarded.
Dill is also a popular ingredient in many Jewish soup recipes, she says, and one of her personal favourites.
"You start from what your mother did and then you modify to your own taste."
In some parts of the world, legends have grown around chicken soup. Ayanoglu says his recipe for tom kha kai was supposedly developed centuries ago by a mother for her ill daughter. "It became the favourite soup of the daughter in question, who grew up to become the queen of Thailand, and popularized it by serving it on a daily basis in the palace."
Uses also vary. One story suggests a Russian chicken soup called lapsha (Russian for noodle) was once served mainly to comfort the bereaved at funerals. And in parts of Peru, a hearty chicken soup made with carrots, ginger, limes and chili peppers is a traditional morning meal, served with hard-boiled eggs and egg noodles.
Chicken soup is not limited to cold-climate countries. A West African version features peanuts, peanut butter or chickpeas and an East African favourite includes coconut and bananas.
Ingredients such as cassava, yams, pumpkin and plantain figure in many West Indian chicken soup recipes while seasonings such as turmeric, cloves, allspice and thyme give the soup a unique flavour.
To contact Susan Greer, email her at susan.greer(at)rogers.com.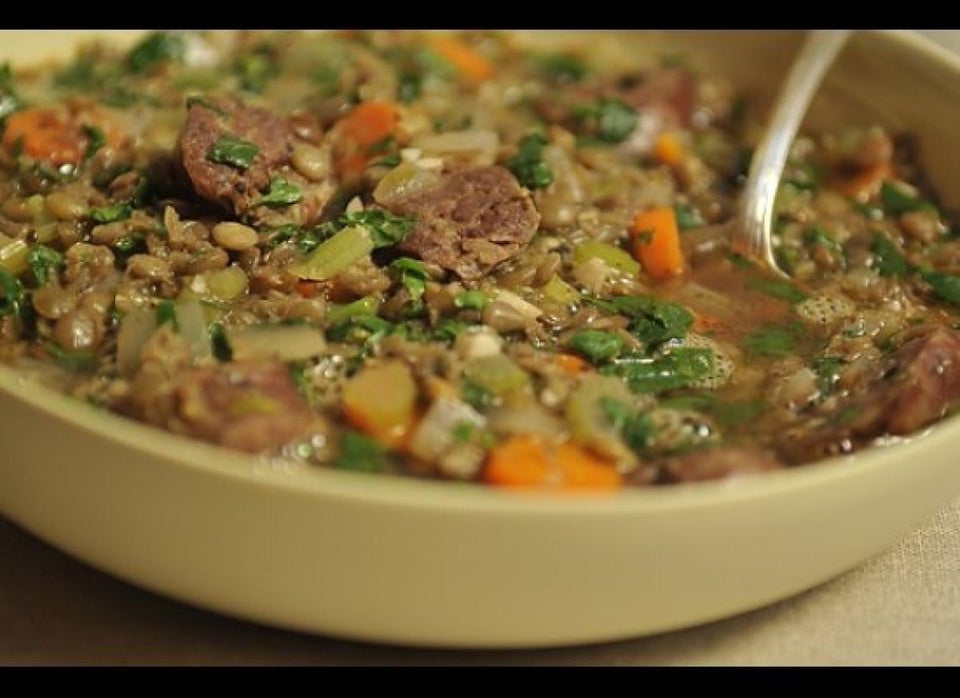 Beyond Chicken Noodle: 10 Soups to Cure a Cold