Under heavy security in the West Bank city of Ramallah, Harper and Mahmoud Abbas met for about a half-hour at the presidential palace before appearing at a joint news conference.
Relations between the two have been strained since the Conservative government attempted to block a bid by the Palestinians for observer-state status at the United Nations last year.
On Monday, as Palestinian officials and some Canadian cabinet ministers looked on, the prime minister disputed suggestions that his stance on the conflict between Israel and Palestine is pro-Israeli.
Instead, he said, his position is a Canadian one, adding he favours a two-state solution in which Israel can thrive in peace and security alongside a Palestinian state.
But, he added forcefully, he would not be drawn into chiding Israel.
"Any attempt to have me, while in the Middle East, single out the state of Israel for criticism, I will not do," he said.
Harper also denied reports in some Israeli media that he's been asked to absorb Palestinian refugees as part of a comprehensive peace settlement in the Middle East. The prime minister said Canada hasn't been asked to take any refugees.
Abbas, meantime, said Canada is entitled to its opinion on the conflict between Israelis and Palestinians but made clear he wants an open dialogue with his Canadian counterparts.
The Conservative government says the new aid money will help advance the peace process, promote security and deliver humanitarian assistance. In a release announcing the aid, the Conservatives said Canada has provided more than $650 million in assistance to the West Bank and Gaza since 1993.
While the new funds are on top of $30 million announced last November, it still isn't as high as previous levels of funding to the Palestinians.
Harper made the trip to Ramallah after visiting the Church of the Nativity in Bethlehem, considered by many to be the birthplace of Christ.
As is often the case in this troubled region, his visit stirred passions when local journalists accused Harper's bodyguards of assaulting them when they tried to cover the visit.
The cameramen objected in anger when the videographer for the prime minister's office, who is filming his every move during his inaugural Middle East visit, was allowed into the church ahead of the rest of the media. The Palestinians believed the videographer was a Canadian reporter and complained bitterly.
The Palestinian Union of Journalists said that one journalist was punched in the face and another was hit with a metal object and urged all Palestinian journalists to boycott Harper's visit to Palestine. It also called on Harper to apologize.
Later Monday, Harper will make history by becoming the first Canadian prime minister to address the Knesset — Israel's parliament.
On Sunday, Harper and his wife, Laureen, were treated to an exceptionally warm welcome to Israel at Prime Minister Benjamin Netanyahu's office.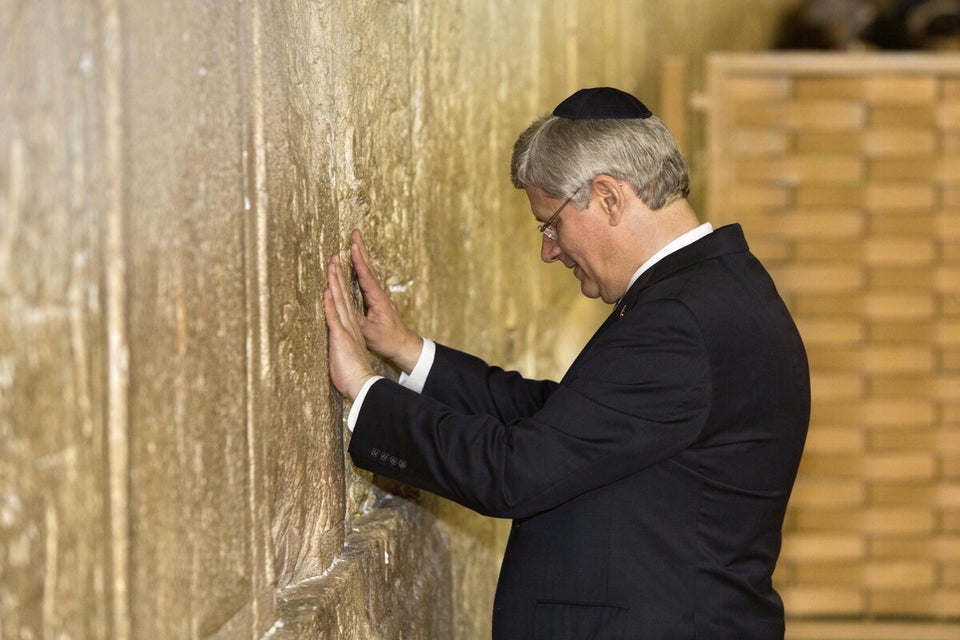 Stephen Harper's Middle East Trip