Jeff Forbes is offering a reward for the return of his dog, Token, after he says a kennel gave his pet away.
The Leduc man says Edmonton's Country Kennels Bed and Biscuit gave his dog away sometime in the three months he was gone to Texas to find a new place to live.
According to a post Forbes left on Facebook, Token was taken to the kennel in June 2013 while Forbes looked for a new home in the Calmar area. He was having little luck finding a place to live, when a company offered him a job in Texas.
Forbes claims he told the kennel he would have to leave Token, a German Rottweiler, at the facility while he went house-hunting south of the border. The kennel, he said, did not ask him for payment for Token's lengthy stay – rather he says he was told he could pay in full when he returned for the dog.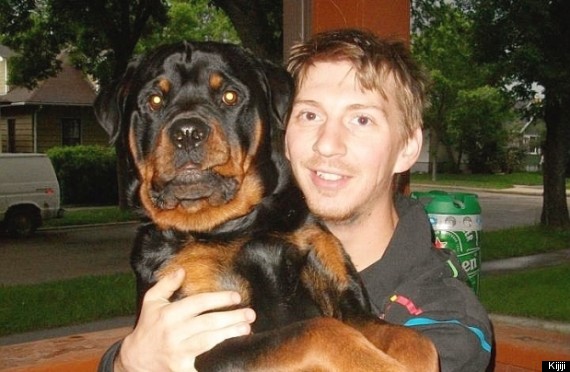 He says he contacted the kennel on Oct. 1, shortly after arriving in Texas, giving them a contact phone number if they needed to reach him.
However, when Forbes returned to the kennel on Nov. 10 to pick up his dog, the shelter told him Token was gone.
"They didn't even know the dog was gone. The dog apparently left the kennel on Oct. 15," Forbes told the Edmonton Journal, adding he was told the kennel turned Token over to an animal rescue agency and did not know how to locate the dog.
Country Kennels owner Belinda Brunnenkant told CBC News, however, that Forbes left the dog at the facility for four months, rarely visiting, and they had no luck trying to contact him while he was in Texas.
"Knowing that he's left the country, knowing that he's not really brought anything or connected with Token that much -- we were concerned," she told CBC.
"We were thinking at this point he's been abandoned."
Brunnenkant's husband Chris, a co-owner at the kennel, told the Journal the facility requested Forbes square up his bill when he asked about an extended stay for Token while in Texas, but they never received the email money transfer.
"We weren't getting any money back in, we couldn't get a hold of his emergency contact ... and at some point, you have to make a decision that the dog has been abandoned," Brunnenkant said, adding Forbes still owes the kennel $3,000.
And while privacy legislation prevents the Brunnenkants from giving Forbes the contact information for the family that adopted Token, they told CBC News the dog is in a "loving home."
Forbes is offering a reward of $2,500 for the return of Token, saying in a post on Kijiji, " I hold no hard feelings to those who have him as you couldn't have know the history or situation."
Also on HuffPost
The Most Powerful Pets In World History