Chau Doan via Getty Images
Pharmacists in B.C. will soon prescribe methadone that is 10 times stronger than the current formula, and some users say that could heighten the risk of overdose.
Methadose—the name of the new drug— is being pitched as a "safer, more consistent treatment" for drug users to help withdrawal from substances such as heroin, morphine and oxycodone, the provincial government said in a news release. It has been approved by Health Canada and is already in use in other provinces, including Alberta.
The new treatment will be dispensed in B.C. from Feb. 1.
Poster from the College of Pharmacists of British Columbia educates patients about "Methadose."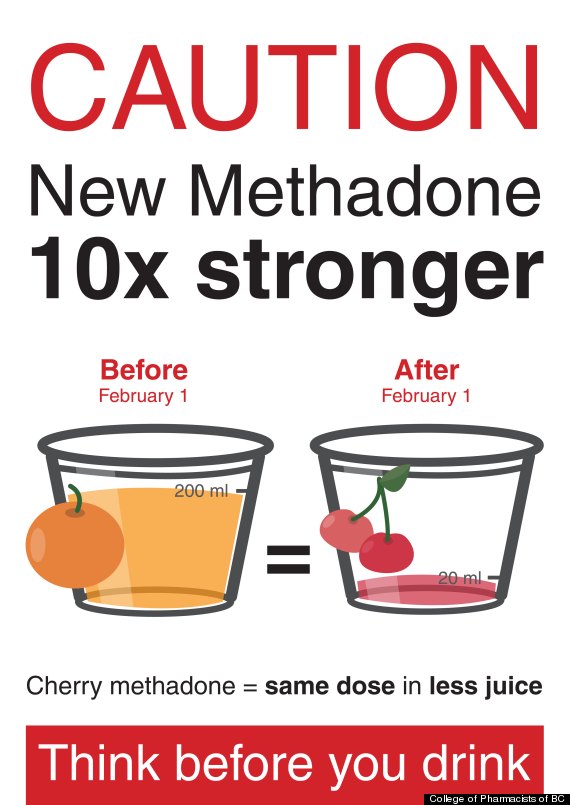 Patients currently ingest dissolved methadone in an orange-flavoured, one-milligram-per-millilitre solution that pharmacists mix together. Methadose will be a cherry-red, 10-milligram-per-millilitre concentration that comes to pharmacies pre-mixed, The Globe and Mail reported.
The provincial government says that will reduce errors in mixing the solution and reduce the risk of overdose. But it won't remove the risk entirely, Laura Shaver, president of the B.C. Association of People on Methadone, and a methadone user, told News1130.
"We're worried if it's in the pharmacies, it can be on the street," she said. "People may try and sell it on the street as the methadone that we take now, and of course it's 10 times stronger so it can kill you."
The drug's strength may also provide an added incentive for pushers, says one methadone user from Vancouver's Downtown Eastside.
Anyone who sells drugs or methadone "has a stronger product as a selling point" and users will actively seek out a substance that has rumours or warnings around it, Jeff Louden told Vice.
Doctors and pharmacists have been trained to dispense the new formula and the province is carrying out a campaign encouraging users to "think before they drink" to raise awareness of the stronger formula.
Pharmacists are being warned to educate their patients about the new dose and to store it so that children and people who have not been prescribed the drug cannot access it, the College of Pharmacists of British Columbia said in a statement on Tuesday.
CORRECTION: A previous version of this story erroneously stated that the doses were one milligram per litre and 10 milligrams per litre. They are, in fact, one milligram per millilitre and 10 milligrams per millilitre.
Like this article? Follow our Facebook pageOr follow us on TwitterFollow @HuffPostBC
Also on HuffPost
27 Reasons Why U.S. Shouldn't Lead War On Drugs