CP
Canadians' notions of travels may involve smooth sailing across a gentle blue sea, but the reality is something closer to a rocky road made of highs and lows according to an online survey.
According to Cheapflight's Canadian Travel Pulse, travel highs — those moments of excitement and happiness — start once Canadians arrive at their destination, and spike back up when they visit the main attraction of their trip, change venues, wake up the first morning or take the sip of their first drink while abroad.
Now, relaxing on a white sandy beach with a pina colada in hand would make just about anybody happy so what about those low moments? Those apparently come long before and after the arrival.
According to the study, airports stress Canadians out. Whether it's driving to the airport to catch your flight, navigating the airport to get back home, or clearing security, there's something about airports that get Canadians all worked up.
"Getting through airports and particularly security did stand out as low points, especially when paired with the question 'who stresses you out the most?' where the top answers were customs/immigration and security personnel," said Melisse Hinkle, editor at Cheapflights.
Of the 1026 respondents, nearly half (49 per cent) selected clearing airport security as their most stressful part of their trip. Getting through the airport back home and arriving at the airport were also aggravating, with 48 per cent and 45 per cent identifying them as sources of travel stress according to the blue line in the graph below.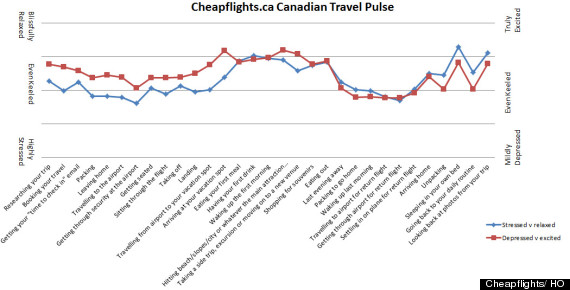 That shouldn't come as a surprise to many given the slew of travel horror stories over the winter holidays with tales of flight delays, cancellations and lost luggage galore. And when it wasn't the airport stressing travellers out, questions like "we paid how much?" and "did you remember the passports or tickets?" also caused Canadians' blood pressure to rise according to the survey.
So what's a stressed out traveller to do? Well, something as easy as adding 30 minutes to your travel time can help, according to Forbes. The bumper time at the airport may not be needed but it'll give you some breathing room if your plans get derailed.
As for forgetting your passport, there's not much Canadians can do if your passport's at home while you're en route to the airport. Instead, focus on breathing, smiling or accepting it's okay to get angry in order to cope with the stress says Catherine Kerr, director of translational neuroscience for Brown University's Contemplative Studies Initiative.
"One thing that happens when you get hyperfocused on a difficult situation is that you start to lose the big picture," said Kerr in an interview with the New York Daily News. "At a certain point, that becomes counterproductive. You want to notice that, and when you do, that's mindfulness."
What do you find the most stressful part of a vacation? Let us know in the comments below or on Twitter @HPCaTravel
Also on HuffPost
Unplug And Relax At These Digital Detox Retreats