Amulya Sanagavarapu is betting her line of underwear can change how people think about sex. And probably not in the way that you're thinking.
Sanagavarapu, a computer science student at the University of Waterloo in Ontario, was thrilled when she saw a "Pink Loves Consent" line of underwear from Victoria's Secret. It turned out to be a prank by the activist group FORCE, which would later hijack Playboy's annual party school ranking, also in the name of promoting consent.
Both pranks were huge viral hits. And while FORCE has acknowledged the efforts behind similarly themed garments produced last year by students at Arizona State University and the University of Oregon, the concept has yet to find traction in retail. That is, until now.
"Despite the interest it created -- and there were masses of people tweeting that they absolutely loved them -- no lingerie company started selling them," Sanagavarapu said. "That's when I decided to shed the 'If it was any good, it would've been done already' attitude and took things into my own hands."
The Canadian college student has launched a Kickstarter to generate funding for a company she's calling "Feminist Style." The first product is a line of consent-themed underwear, with 20 designs to chose from. Guys aren't left out either, with a few boxer designs included.
Follow Feminist Style's board #consentpanties on Pinterest.
"Everyone will agree that rape is bad, but a lot of people trivialize it in ways they don't even realize," Sanagavarapu said. "I want these people to see the consent panties and realize that if we lived in a society that actually understood consent, these would seem utterly ridiculous."
Strains of rape culture remain a persistent issue in both Canada and the United States. The University of British Columbia went into an uproar in September 2013 over a pro-rape chant caught on video. In the U.S., a Georgia Tech fraternity brother's email about "luring your rapebait" sparked significant controversy in October.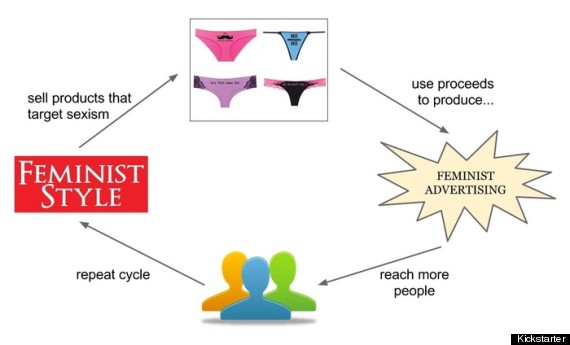 However, Sanagavarapu's plan is not just to sell panties celebrating consent, she wants to use her profits to produce feminist advertising to counter the sex-driven marketing for everything from deodorant to hamburgers.
"The mission is to create social change through consumerism," Sanagavarapu explained.
As of Friday afternoon, she had raised more than $1,900 toward her $150,000 goal.
CORRECTION: A previous version of this article stated Amulya Sanagavarapu was an engineering student, she is actually a computer science student.