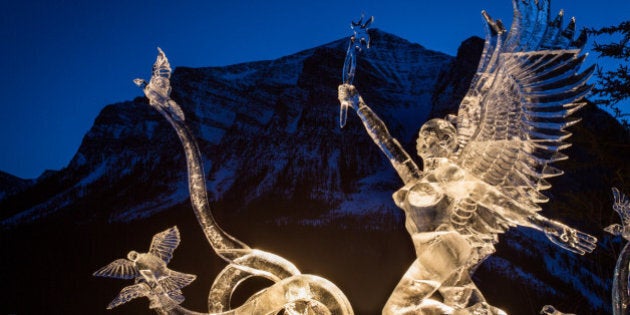 They are magical creations in a magical setting.
While much of the continent was feeling sorry for itself and taking refuge from a lingering polar vortex last weekend, 20 two-man teams made up of some of the world's best sculptors found inspiration in snow and ice and in the cold they braved for the sake of their art.
Coming from as far as France, the Philippines, Russia, the U.K. and the U.S., 40 artists arrived in one of the most picturesque settings in Canada, to take part in the 20th anniversary edition of the Ice Magic Festival in Lake Louise.
The carvers braved frigid mountain weather, exhaustion and sleep deprivation to create sculptures that freeze admirers in their tracks but that, come spring, will only exist in photos and in memories.
Each was given 15 300-lbs blocks of competition grade ice - that means no bubbles and perfectly clear - and 34 hours to turn those blocks into something truly unique.
The theme for this year's competition was Freeze Olympic Fever, to mark next month's Winter Olympics Games.
Story continues below the slideshow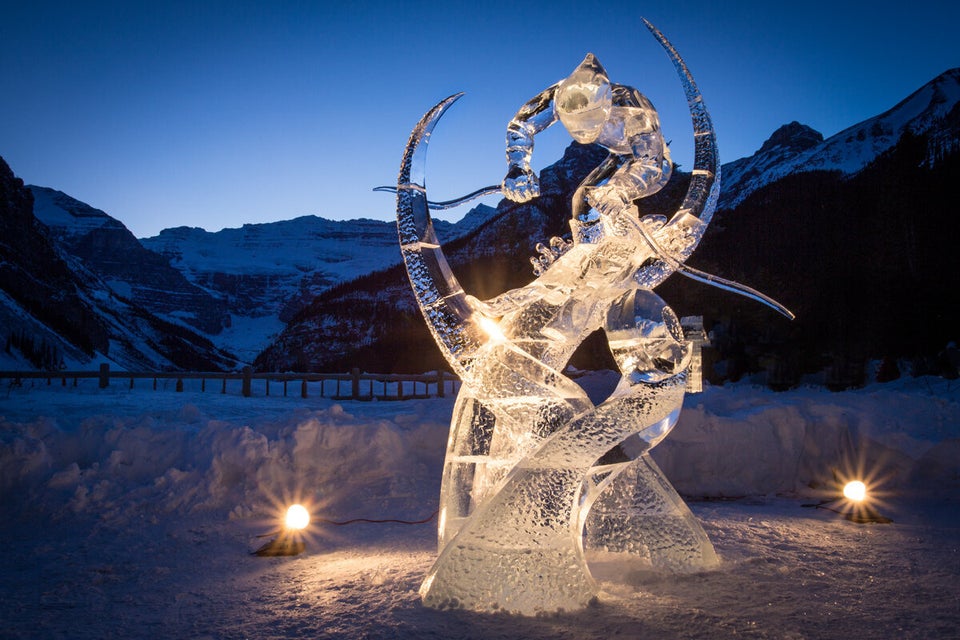 Like the humble beginnings of the art form - ice sculptures were born from the need by chefs to find a way to keep food fresh once served - the festival too has grown into something special, a world-class competition.
"It's a very enduring and much loved event that draws tens of thousands each year to watch world-class ice carving combined with a truly unbelievable setting," Stu Back, Director of In-Resort Services, told The Huffington Post Alberta.
The competition offers up $7,000 in prizes but the artists aren't really in it for the money, says Back.
"For them it takes more than money. It needs to be about pride and a love for what they do," he said.
"It takes unwavering dedication to work for 34 hours over three days, out in the cold the way they do."
As breathtaking as the carvings may be, watching the artists work is amazing in itself, adds Back.
"They are a very competitive bunch but they are also very cooperative," he said.
"It takes more than two pairs of hands to lift and move blocks of ice; they help each other, they share each other's tools and maintain a real sense of community."
The festival runs from Jan. 17 through to Sunday Jan. 26.
The statues, however, will remain in place as long as the weather allows, said Back.