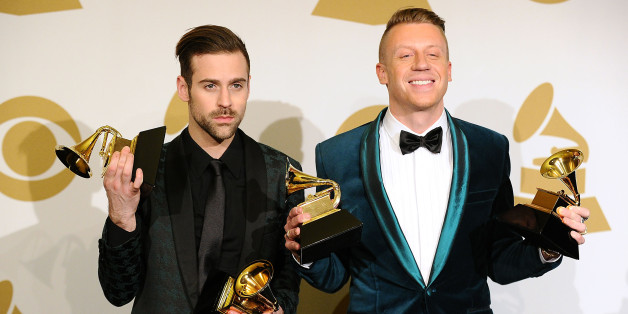 Jason LaVeris via Getty Images
When it comes to Grammys controversy, nothing stirred up more saddles than Macklemore and Ryan Lewis' wins in the rap categories: Best Rap Performance, Best Rap Song and, most of all, Best Rap Album. The hip-hop community was quite upset at the Seattle rapper's victory over Kendrick Lamar's "Good Kid, m.A.A.d. City," and they weren't alone: Macklemore himself was in complete agreement, and he made sure Lamar, a good friend, knew that he was rooting for "Good Kid."
After the Grammys had finished, Macklemore posted a text he had sent Lamar to Instagram.
He shared a few more words in the photo's caption:
My text to Kendrick after the show. He deserved best rap album... I'm honored and completely blown away to win anything much less 4 Grammys. But in that category, he should have won IMO. And that's taking nothing away from The Heist. Just giving GKMC it's proper respect.. With that being said, thank you to the fans. You're the reason we were on that stage tonight. And to play Same Love on that platform was a career highlight. The greatest honor of all. That's what this is about. Progress and art. Thank you. #grammys
This kind of an exchange should come as no surprise, as the emcees wished one another the best of luck as they arrived at the 56th annual Grammy Awards. Macklemore had also posted another text exchange with Lamar that showed the West Coast rappers hyping each other up before the big ceremony.