An image of a bloody, battered, virtually unrecognizable journalist is fanning the flames of ever-spiraling protest in Ukraine.
Tetyana Chornovil, an outspoken critic of the embattled regime, was reportedly hunted down in her car and brutally attacked late last week — just hours after posting pictures on her blog of a sprawling country manor allegedly owned by Interior Minister Vitaly Zakharchenko.
The disturbing image of a brutalized Chornovil has made the rounds on social media, and galvanized calls for Zakharchenko to resign.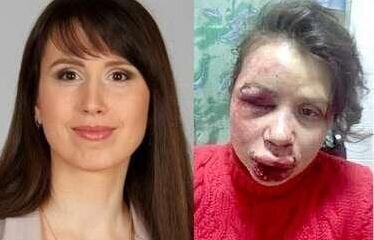 Ukrainian authorities, however, claim to have arrested five suspects involved in the attack — all with ties to the country's opposition, Al Jazeera reports.
That official message was met with widespread disbelief — and anger.
"Our police no longer protect their people, but fight them instead, hurt and oppress them," 47-year-old housewife Valentina Gorilova told Reuters.
The reporter's apparent beating comes in the wake of a series of well-publicized incidents that have emerged from Ukraine riots. Last week, Reuters reported on a protester being apparently forced by police to strip naked and stand in the snow.
Harrowing pictures of a Ukrainian student who claims he was tortured by police also emerged last week.