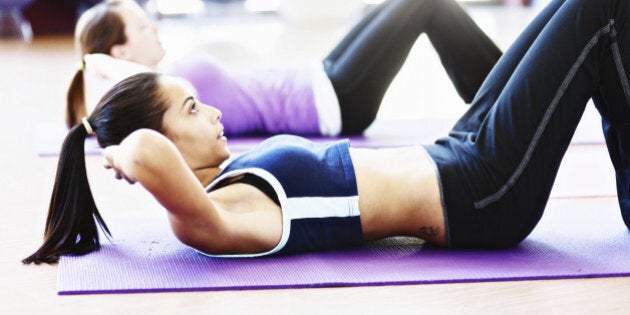 THE GOAL: Building a strong core and ab muscles
THE INFO: There's often a misconception about doing a long set of crunches and getting rock hard abs. Cieciwa says maintaining a proper diet (eating fruits and veggies and cutting out the sugar and processed foods), cardio work and increasing the difficulty of workouts are all ways to get stronger abs. And along with exercises like sit-ups, it's also important to work out the legs for a solid core as well.
This workout below focuses on three different muscles to pull the core tight and make your abs functionally stronger. Start off this routine with a 10-minute run to warm up, followed by two sets of each workout for 15 reps. Next, run again for five minutes, followed by two more sets of 10 to 15 reps and finish with a 10-minute run to cool down and a stretch. Try this exercise twice a week.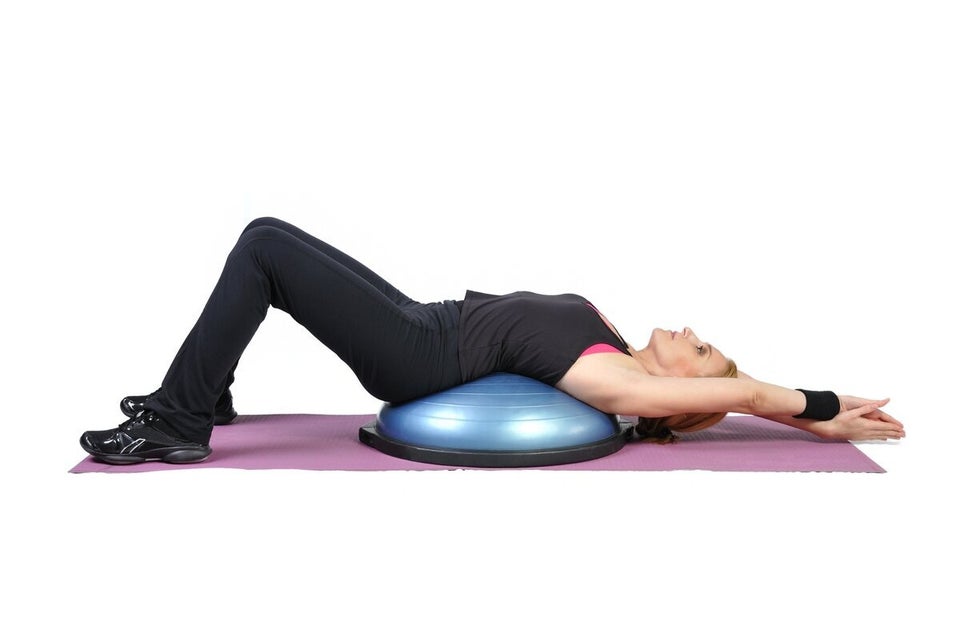 Lay on your mat with a Bosu balancer underneath your back. Next, come up to a crunch and reach out to the left side, then right.
Keep your hands behind your head and make sure your shoulders and elbow are straight. Come up to a crunch, keeping your core tight and neck away from your shoulders. Move your elbow towards the opposite knee, creating a bicycle movement.
WORK: Rectus abdominis (ab muscles)
For the sit-up, remember to keep your core tight and use your ab muscles to move up (not your neck and head).
WORK: Rectus abdominis (ab muscles)
Lay on the floor and keep your legs together. Next, lift your legs up while keeping the core tight and moving slower as you go down.
WORK: Transverse abdominis (ab muscles)
Get into a push-up position on your elbows and hold. Remember to lower your hips and look straight.
Have something that needs fine tuning? Let us know in the comments below.
The new year is the time to take on new challenges, so for the month of January and beyond, The Huffington Post Canada's Living team brings you Fine Tuning: daily workouts, with tips on how to tone up, get healthy and stay fit for the whole year. Each workout will focus on one fitness goal or body part, with our favourite trainers showing you simple ways to get stronger and healthier in less than 45 minutes.