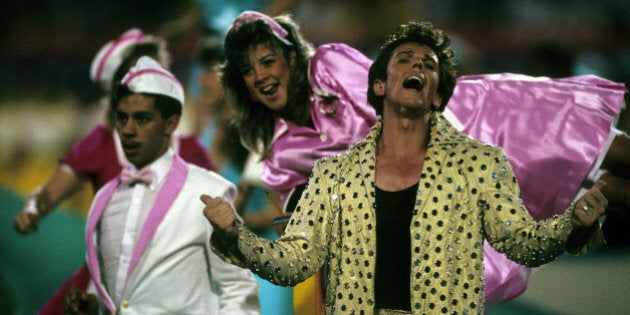 If the combination of pop crooner Bruno Mars and the shirt-hating alt-rockers Red Hot Chili Peppers playing the Super Bowl Halftime show together seems pretty random, well, that's because it is pretty random. But that's nothing new to Super Bowl halftime shows.
Sure, Beyonce made sense as both a way to woo women to the broadcast and because Bey is basically the queen of America right now, and the last decade was filled with classic rockers like Prince, Paul McCartney, Bruce Springsteen and the Who, all of whom made sense in a Super Bowl context even if they weren't all up to snuff.
But 2012's combination of Madonna with M.I.A., Nicki Minaj, LMFAO and Cee-Lo was weird even before M.I.A. flipped America the bird, and earlier halftime shows have been even weirder.
So we dug around and found the most random Super Bowl halftime shows ever. Though to be fair, at least nobody at the NFL thought it was a good idea to book Bieber. (yeah, we're giving you the stink-eye, Grey Cup).