It's the Lunar New Year, a time when an estimated 3.6 billion trips will take place in China as people travel to see their families and celebrate the year of the Horse.
Except me. My passport just expired (and really, my family lives a ten-minute drive away).
I realized the end was nigh just recently and, in a panic, rushed to get passport photos taken at a Black's photography outlet in downtown Toronto.
It took a few tries to get them right, and I was in a rush, so I had to return later that day. The very kind photographer packaged up the photos for me and sent me on my way.
After I got home, I took a look at the envelope she'd put the photos in. Apparently she'd forgotten to take my name that morning, so she put in a descriptive name instead: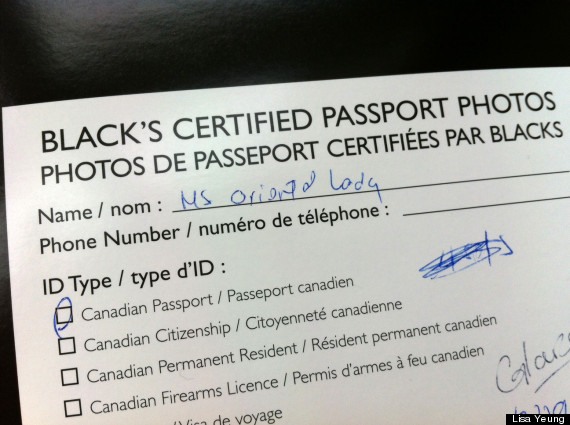 Ah, 'Oriental.' That colonial term of yore -- now considered eurocentric and offensive. You may remember Rob Ford's now infamous quote: "Those Oriental people work like dogs. They work their hearts out. They are workers non-stop. They sleep beside their machines. That's why they're successful in life." Kinda like that.
Ironically, the photographer didn't need to put down a descriptor -- she could have just taken the photos out to see that it was me!
As the old saying goes: a picture may be worth 1,000 words, but probably none of them should be 'oriental.'
(Hey, at least she called me a lady -- and not 'lady chinky eyes').
Also on HuffPost
Outrageous Receipts (EXPLICIT LANGUAGE)