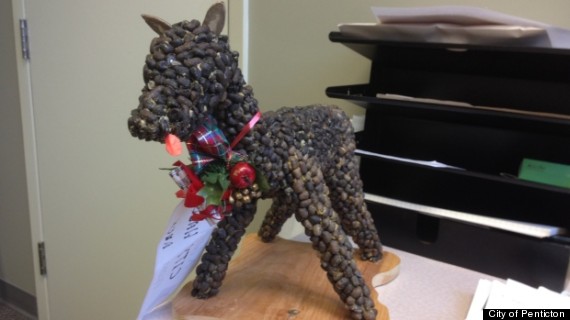 The debate over urban deer in B.C.'s Okanagan inspired one local to take their point to creative extremes — by crafting a statue out of deer poop and leaving it on the steps of Penticton City Hall.
The innovative civic protest is half a metre high and mounted on a wooden pedestal, reported CBC News.
"That was a very effective way of communicating with us that there was a problem out there that needed to be resolved," Penticton Mayor Garry Litke told CBC. "We have some artistic people in Penticton, that's for sure."
Aggressive deer around the city have attacked people and pets. Last year, the city passed a bylaw banning people from feeding wildlife.
The city had been considering a cull of urban deer, but decided last week to opt for a pilot program to try to relocate the animals and avoid euthanizing them.
They voted to allocate $15,000 to move deer to pasture land about 10 kilometres away that's owned by the Penticton Indian Band, reported The Penticton Western News. The deer will be tagged to monitor if they return to the urban centre.
Several B.C. communities are struggling with problem deer. A group in Invermere tried to block the decision to cull deer there, but recently lost its case in B.C. Supreme Court, said CBC.
Penticton officials had actually approved a deer cull last year, but it was put on hold pending the court decision.
Kimberley will be euthanizing as many as 30 animals this month.
With files from The Canadian Press
Like this article? Follow our Facebook page

Or follow us on Twitter
Also on HuffPost