Brace yourself: "Ford Nation" is coming back.
Almost three months after their TV show was unceremoniously dropped by Sun News after just one episode, Rob and Doug Ford are returning to the airwaves — as promised — on YouTube.
"What do you eat? You've got a big belly on you. You must be eating something. What's your favourite food?" Rob Ford asks his brother.
"That's the pot calling the kettle black," Doug Ford replies.
Doug Ford seems to suggest in the video the mayor is being targeted for "pulling their hands out of the cookie jar," a likely dig at Toronto city council.
And Rob Ford waxes poetic about the importance of political impartiality.
"I don't ask people on the phone, 'Are you Conservative, NDP or Liberal?' before I help 'em, I just go out and help these people out," he says.
And, in a familiar refrain, Rob Ford asks to be judged on his record and not his personal life. The controversial mayor is running for re-election this October.
The Ford brothers vowed we hadn't seen the last of them after the Sun News fiasco. In fact, Doug Ford told The National Post they had been approached about a show by "everyone from Oprah to Dr. Phil."
The one television episode of "Ford Nation," which aired in November after the mayor confessed to having smoked crack cocaine, was the most successful show Sun News has ever produced.
But Kory Teneycke, the network's vice-president said it was the overwhelming production costs, not pressure from advertisers, that ultimately led to the show's cancellation.
"The episode took as many resources as we would usually use for eight hours of daytime programming," he told Huffington Post Canada. "The economics of that don't work well over the long term."
A memorable moment from the series finale was when both brothers were caught laughing at the "Daily Show" clip where host Jon Stewart lost it over Rob Ford's infamous "enough to eat" comment. Ford again apologized for the crude remark.
But the Fords are not the only politicians to bring their message to the masses through YouTube clips that conveniently leave out bits of unflattering information.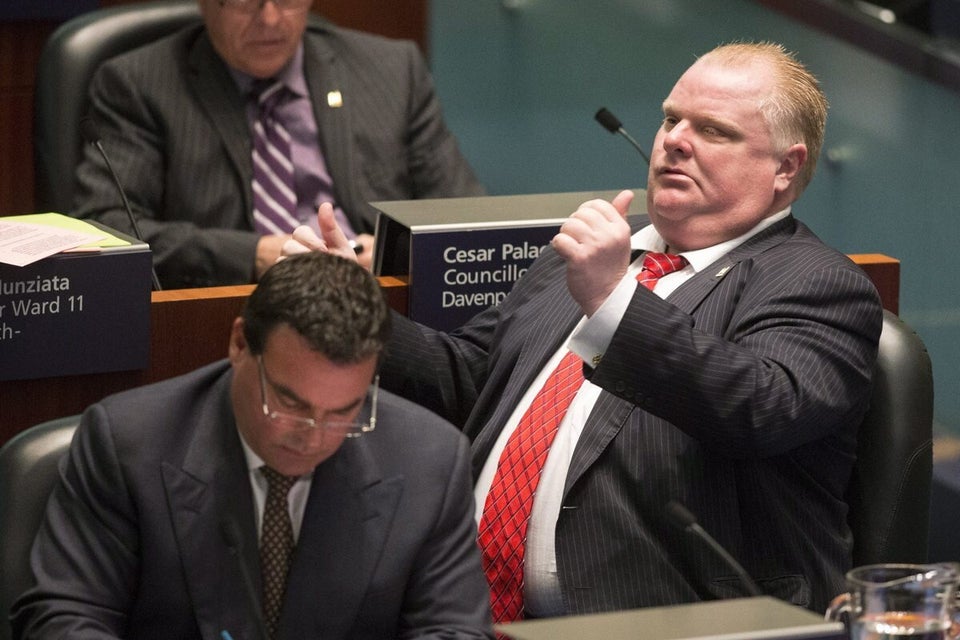 The Many Faces Of Rob Ford