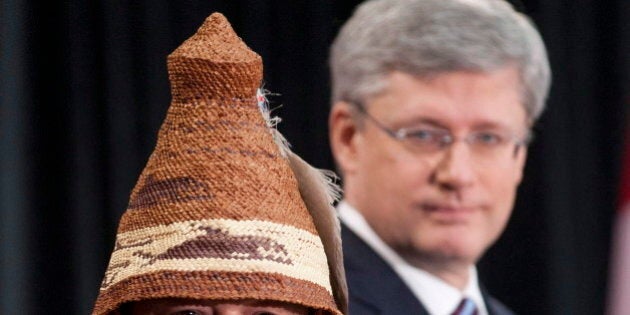 OTTAWA - The Conservative government is poised to finally unveil its retooled plan to reform First Nations education.
Prime Minister Stephen Harper will deliver the news Friday alongside Assembly of First Nations National Chief Shawn Atleo at Kainai High School, about an hour's drive south of Lethbridge, Alta.
Atleo sent an email to the AFN's regional chiefs on Wednesday to tell them it appears the Conservatives have agreed to conditions set out last year that threatened to derail the reform process.
Those conditions call on the government to ensure aboriginal communities retain control of education and to provide a statutory funding guarantee, recognition of First Nations languages and culture, shared oversight and ongoing, meaningful engagement.
"We have received word that there is agreement to meet the conditions we outlined ... including new and sustainable investments in the upcoming budget," Atleo told the chiefs.
"Tentative plans are underway for an announcement of this investment and a framework to support First Nations control of First Nations education this Friday."
He invited any chiefs who wished to attend the announcement to join him at the school.
"This is a significant shift and I believe it results from our strong direction from chiefs to take all steps necessary to secure the future of First Nations children," Atleo wrote.
Last year, Atleo wrote to Finance Minister Jim Flaherty to stress the urgent need for greater aboriginal education funding in the upcoming federal budget.
Aboriginal Affairs and Northern Development Canada says that in 2011-12, it spent about $1.55 billion on First Nations education from kindergarten to Grade 12 and another $322 million on First Nation and Inuit students pursuing post-secondary education.
That's on top of about $200 million spent on infrastructure for schools and classrooms.
But the AFN says that money falls short of what is needed.
Behind the scenes, Atleo has met a number of cabinet ministers in recent weeks to press his message about First Nations education.
Publicly, he has been proclaiming his confidence that First Nations and the federal government will reach an agreement on a plan to reform education.
Harper spokesman Jason MacDonald has yet to respond to a request for comment.
Follow @steve_rennie on Twitter