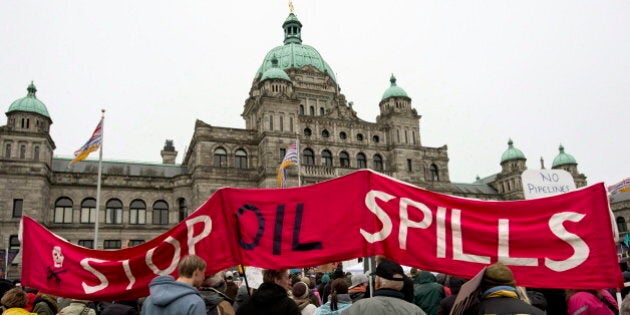 VANCOUVER - Civil liberties advocates in British Columbia have filed complaints against CSIS and the RCMP over allegations the agencies snooped on opponents of the Northern Gateway pipeline.
The B.C. Civil Liberties Association's complaints allege the RCMP and the Canadian Security Intelligence Service, or CSIS, needlessly monitored First Nations and environmental groups and then passed along information to the National Energy Board and energy companies.
The group's executive director, Josh Paterson, claimed the police force and the spy agency's actions infringe the activists' charter rights, as none of their activities posed any threat to public safety or energy board hearings.
"Whether this information was gathered through open sources, or through covert means such as infiltration, the RCMP and CSIS have absolutely no business gathering information on people who are engaged in peaceful, democratic activity," he told reporters.
"That is a perversion of our system and it is harmful to democracy because it can intimidate ... people from wanting to express themselves and participate in public debate in the first place."
The complaints were filed with the independent watchdogs that monitor the RCMP and CSIS. They stem from access-to-information documents obtained last November by online publication the Vancouver Observer.
The documents include email exchanges between National Energy Board security officials and RCMP officers about protests targeting national energy board hearings in B.C. The hearings were examining the proposed Northern Gateway pipeline between Alberta's oil sands and the B.C. coast.
Paterson said most of the information was taken from publicly available sources, such as social media feeds or websites.
In one email, Tim O'Neill, a specialist with the RCMP's Critical Infrastructure Intelligence Team, wrote to a National Energy Board security official in April 2013. O'Neill indicated that after reviewing unidentified websites, while he found some "questionable rhetoric," there was "no intelligence indicating a criminal threat to the NEB or its members."
"(The intelligence team) will continue to monitor all aspects of the anti-petroleum industry movement to identify criminal activity and will ensure you are apprised accordingly," O'Neill wrote, adding that he had also sent the message to two people within CSIS.
Paterson said it's unclear what CSIS' involvement was, but he said the fact that the spy agency was mentioned is troublesome because its mandate is to only investigate threats to national security.
"Police, it's their job to investigate potential criminality, it's their job to protect us and infrastructure against threats both to human life and to property," he said.
"But when their investigation gets to a point where they say 'Look, there's nothing to see here, there's no criminal activity,' we say that's where it's got to end."
The RCMP declined an interview request, but wrote in an emailed statement that it cannot comment on the complaint because it had not officially received notification from the Commission for Public Complaints against the RCMP.
"We take all public complaints seriously, and will fully co-operate with the (complaints commissioner) if necessary," the statement said.
CSIS also refused a phone interview, saying in an emailed statement: "CSIS investigates — and advises government on — threats to national security, and that does not include peaceful protest and dissent."
Sarah Kiley of the National Energy Board said it is common for staff to consult the police when they have safety concerns.
"So we've received information this person is going to protest — which of course they're completely entitled to do — should we have any concerns?" said Kiley.
"And they might say 'No, this person is a peaceful person,' or they might say, 'We might keep an eye on it.'"
ForestEthics Advocacy is one of the groups that alleges it was spied on. Campaign director Ben West said one of the documents detailed a meeting in a church basement, where a group of grandmothers and single parents painted placards and learned about storytelling.
West said it was unclear how RCMP knew exactly what went on at that meeting, but said it was disturbing that it was noted in the documents.
"People have a reasonable expectation when they're in a church basement learning a storytelling workshop that there's no state agency there monitoring them," he said.
"It taints this process and discourages exactly what we want people to do in a democracy, is to actually get involved in decisions that affect them."
Grand Chief Stewart Phillip, president of the Union of B.C. Indian Chiefs, said he takes "great exception" to being spied upon, and that his organization will continue to support the First Nations groups that oppose the Northern Gateway pipeline.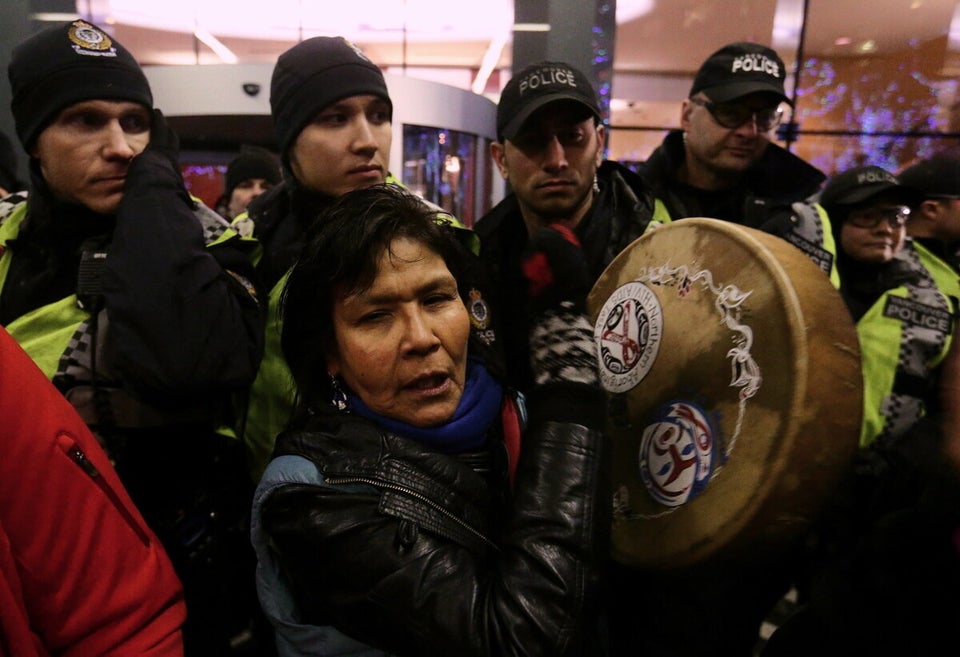 Northern Gateway Pipeline Hearings - Vancouver