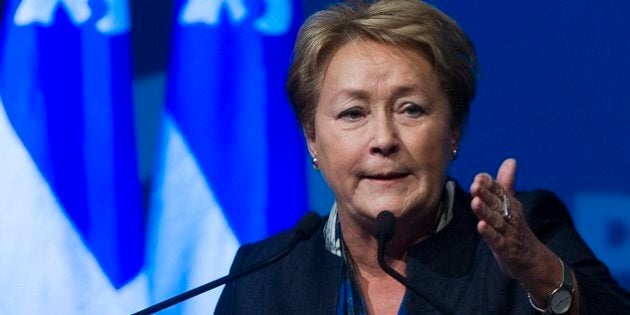 SHAWINIGAN, Que. - The buildup to Canada's 150th birthday will be a perfect opportunity for Quebecers to decide whether they want to stay in Confederation, says Premier Pauline Marois.
Canada will mark the anniversary in 2017 and Marois says an extended Canadian celebration would showcase the advantages and the inconveniences of Quebec's relationship with the federal government.
"What I hope is that we really make a point about where Quebec finds itself after almost 150 years," she said Thursday.
With speculation of a spring election buzzing in her province, Marois said if she succeeds in her drive for a majority mandate she would have the leeway to push for Quebec sovereignty.
"If they vote for a sovereigntist government, for sure, they accept that I will discuss this issue (independence) if I think that is the moment to do that," Marois, who leads the minority Parti Quebecois government, said at the end of a two-day caucus meeting.
"And if that is the right time to do that, to go to a referendum."
Marois outlined plans to present a "white paper" on Quebec's future and to then consult Quebecers.
One possibility is a travelling committee similar to the Belanger-Campeau Commission, which sought Quebecers' input on the province's political and constitutional future nearly 25 years ago.
Marois denied the political strategy is aimed at producing a "black paper" on Canada.
"What are the economic aspects that have favoured or penalized Quebec?" she said.
She then proceeded to answer her own question, trotting out a list of well-worn complaints that Marois says have been to the detriment of Quebec.
Her examples included how Ottawa has favoured Ontario by helping that province's automotive industry and how the federal government provided money for the naval industries in the Atlantic provinces and British Columbia.
Marois said it's up to the PQ to promote sovereignty and show there's "an interesting solution to our future."
One reporter asked Marois if she would view a majority win in the next election as a mandate to achieve sovereignty.
"I am a sovereigntist," she responded. "When the people elect me and my government, I have the possibility to do the sovereignty."
Marois also criticized Quebec Liberal Leader Philippe Couillard who, according to the premier, has said in the past he wants Quebec to sign the Constitution "without conditions (and) without consultations."
The constitutional debate has long been a thorny subject in Quebec, which was the only province that didn't agree to patriate the Constitution in November 1981 during what became known in Quebec as "The Night of the Long Knives."
Marois is not committing herself to holding a referendum if she wins a majority mandate, reiterating that such a vote must happen at the appropriate moment.
International Relations Minister Jean-Francois Lisee indicated Thursday the PQ wants to be sure it can win an independence referendum.
"I think sovereigntists want Quebec to become a country and they don't want another failure," Lisee said.
"And I think everybody knows the path that we have to take to being sovereign goes through respect for the pace of Quebecers."
Lisee stressed that all Quebecers would have a say in their future.
"We say no changes will happen without the clear expressed will of Quebecers in a referendum," he said.
Lisee also touched on Canada's 150th birthday.
"You can bet your house that the federal government will make a big show of that to say how great and beautiful and extraordinary this country has been," he said.
"Maybe there's another side to that story and so we should ask: 'has this been a good deal for Quebec?'... so that's a conversation that we'll have."
Couillard, a federalist, took aim at the PQ's proposed white paper, calling it "a red herring."
"It's another way to shift people's attention away from the true reality of Quebec, which is a very weak economy, (and) public finances that are very badly managed," he told reporters in Quebec City on Thursday, adding there are "at least two — if not three years of deficit ahead of us."
Federal Liberal Leader Justin Trudeau also took issue with Marois' comments.
"Madame Marois has indicated that she is more than happy bringing up divisive issues to try and gain electoral advantage," he said after a speech to students at Montreal's Concordia University.
"What I hear from Quebecers and people across the country is concerns about jobs, about the economy, about their savings, about their kids' futures - and that's what we're going to remain focused on and that's what we'll be celebrating in 2017."
Recent polls have suggested support for the PQ has climbed since it introduced its controversial identity charter on the accommodation of religious minorities.