Telus says it has restored service to customers experiencing a wireless voice outage.
Service was affected by a "technical issue," the telecom giant said Friday afternoon, a couple hours after customers began complaining of service disruptions.
Though Telus said the outage affected its wireless voice network, some customers tweeted they were experiencing problems with data and even internet home phone service.
The outage was concentrated in central Canada, Alberta and British Columbia.
RT @TELUSsupport: Customers are experiencing issues w/their wireless voice service. We're working to get that fixed asap. Sorry.

— TELUS Support (@TELUSsupport) February 7, 2014
@TELUSsupport why on earth aren't any of my texts sending, like it's happening to a lot of people in my region who are with telus

— ®0b¥π (@RobynPhillipsxo) February 7, 2014
There were conflicting reports over whether or not Koodo customers were also affected. Koodo is a discount brand belonging to Telus.
The company said it was experiencing a "network issue" and could not initially give a timeline for when it would be fixed, CBC reports.
This story has been updated to reflect Telus' announcement that service has been restored.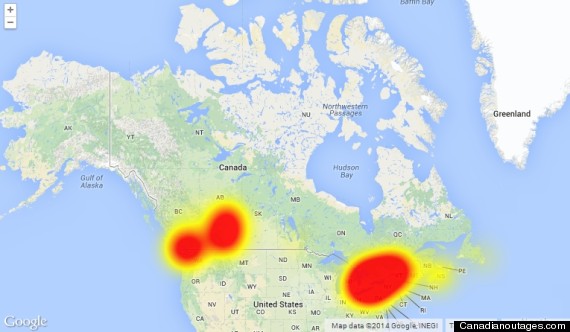 Telus outage map courtesy Canadianoutages.com
Wireless Brands With The Most Complaints