Two brightly decorated vending machines are the first in Canada to dispense crack pipes as part of a campaign to reduce the spread of disease among drug users in Vancouver.
Run by the non-profit Portland Hotel Society, which helps people with mental health and addiction issues, the machines have been operating for about six months, reported Vice. Each machine, which holds Pyrex 200 pipes packaged in cardboard tubes, needs to be replenished weekly.
Diseases like hepatitis C, HIV, pneumonia and tuberculosis can be spread by sharing chipped or broken crack pipes with people who have sores and burns on their lips.
Existing programs provide drug users with safe, clean pipes, but they're usually limited to one a day, Kailin See, director of the Drug Users Resource Centre, told CTV News. The vending machines allow them to buy as many pipes as they need for 25 cents each.
The machines, which used to dispense sandwiches, are part of a broader harm reduction strategy.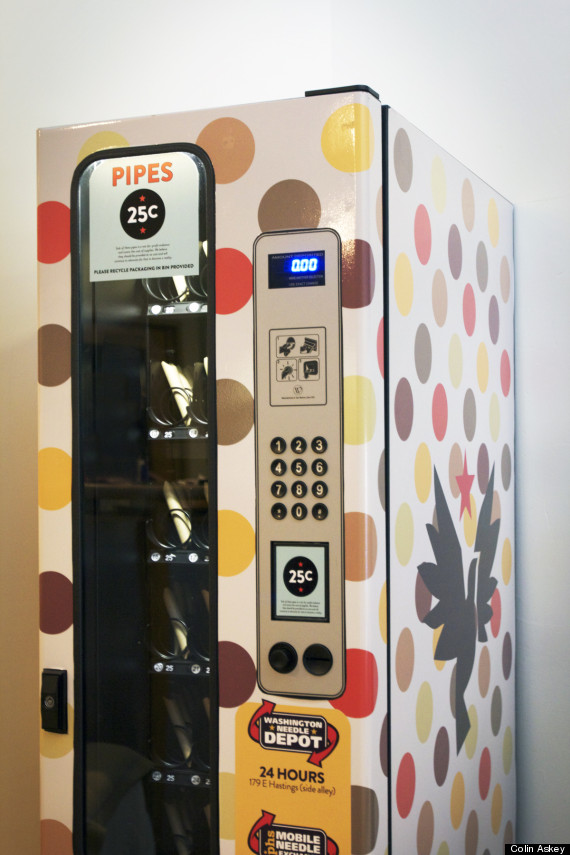 "You have to have treatment, you have to have detox, you have to have safe spaces to use your drugs of choice and you have to have safe and clean supplies," See told CTV.
Last summer, a study released by the B.C. Centre for Excellence in HIV/AIDS refuted criticism that the distribution of free pipes would encourage addicts. It found that crack use in Greater Vancouver declined since health officials began giving out free crack pipes and mouthpieces to drug users.
New South Wales in Australia has syringe needle vending machines, which are now being considered for other parts of that country.
Also on HuffPost
Photo gallery
Bryan Saunders Self-Portraits On Drugs
See Gallery