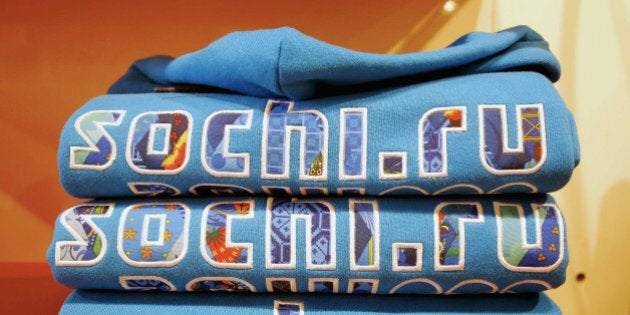 B.C's Better Business Bureau says a recent search came up with nearly 6,000 Sochi 2014 Winter Olympic items for sale on eBay that include some obvious frauds.
Items for sale included sweaters, jackets, mitts and a Sochi 2014 Olympic torch selling for $7,000. The BBB says many of these items were authentic, but some were not.
It says it's difficult to guarantee that items online from third parties are actually official, so is issuing a warning about scammers trying to cash in on Olympic fever. The Games started Friday and run to Feb. 23 in Russia.
The BBB says consumers should familiarize themselves with Olympic logos, graphics and branding, and consider shopping directly with the official website of the 2014 Sochi Olympics to avoid being taken for a ride.
If you're trying to buy U.S. or Canadian team merchandise, the BBB recommends going to the official sites for Team Canada and Team USA.
The bureau is also warning shoppers to beware of so-called limited edition mementos. It says most collectible Olympic merchandise is manufactured in large quantities and rarely rises in value. If you are offered a limited-edition memento, check on just how limited it is before making a decision, the BBB suggests.
For anyone travelling to Sochi, the BBB says you can also get scammed on travel and ticket packages. It recommends visiting the official site for buying tickets, including authorized tickets sold between fans.
During the 2010 Winter Olympics in Vancouver, hundreds of people, including the mother of a U.S. snowboarder, were caught in an Olympic ticket scam after a U.S. Georgia-based company sold tickets it hadn't yet secured to resellers.
Just before the Canada-U.S. 2010 Olympic gold-medal hockey game, won by Canada, Games organizers discovered a hockey-ticketing scam that defrauded 200 people before it was nipped in the bud.
The BBB also recommends taking the following precautions:
- Deal only with reputable companies.
- Confirm all reservations and bring confirmation numbers.
- Make purchases with credit cards.
- Don't open attachments to unsolicited Olympic-related email.