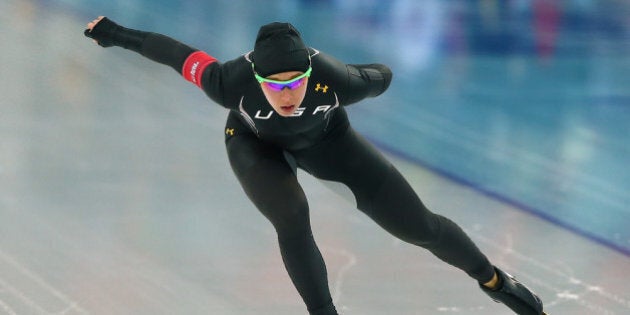 We're happy to see that we weren't the only ones who were wondering about those silver patches on the inner thighs of Team USA's 2014 Oympic speed skating team.
According to Slate, the patches aren't there for fashion purposes; in fact, they are pieces of "ArmourGlide," a "super-slick material that apparently reduces friction by up to 65 percent." This is important for the athletes because they don't want their thighs to stick together when they're skating, which would slow them down and make them chafe. (Aie!)
Here are some other findings about the high-tech suits:
The Americans' outfits are called the Under Armour 39 Speedskating Suit.
The suits were developed by sporting goods company Under Armour and Lockheed Martin (yes, the company that makes fighter jets).
It took more than 100 textiles and 300 hours of wind-tunnel testing to create the perfect outfit that combined aerodynamic speed and comfort.
But we have to ask: do they come in pink?