It appears two key members of Stephen Harper's inner circle don't see eye-to-eye — yet again.
This time, Finance Minister Jim Flaherty and Employment Minister Jason Kenney are clashing over a key promise Conservatives made in the last federal election en route to their majority mandate.
On Wednesday, Flaherty suggested that expanding income-splitting for families with dependents under the age of 18 may not be the ideal way to spend the "nice, clean surplus" he anticipates in time for the next election.
Flaherty's budget projects a $6.4-billion surplus in 2015. He expects it will cost roughly $2.5 billion to fulfill the income-splitting promise that was central to the Tory campaign in 2011, but told the Ottawa Chamber of Commerce he'd rather pay down public debt and cut taxes.
"There's a tendency among politicians to always — regardless of political stripe — to always want to throw baubles out the window and pretty things — 'Look over here' — you know,'' he told reporters. "And this is a shiny thing. Vote for me because I have a shiny thing. I'm not there.''
A recent report by the left-leaning Canadian Centre for Policy Alternatives found that 86 per cent of Canadian families would find nothing to be gained from the plan.
Flaherty seemed to concede as much Wednesday.
"It's an interesting idea. I'm just one voice. It benefits some parts of the Canadian population a lot. And other parts of the Canadian population virtually not at all," he told reporters.
But Kenney disagrees with the finance minister.
The employment minister told Postmedia on Wednesday that income-splitting means tax fairness for families and was a campaign pledge.
"All I know is we keep our platform commitments," Kenney said. "We made a platform commitment to introduce income-splitting when we get to a balanced budget. We'll get to a balanced budget next year, that's very clear."
Treasury Board President Tony Clement echoed those sentiments.
"I know what our campaign commitments are and I stand by those commitments," Clement said.
Maxime Bernier, minister of state for small business, seemed to side with Flaherty.
Opposition Leader Tom Mulcair pounced on Flaherty's comments Wednesday, asking Harper if he agreed that income-splitting would provide no relief to the vast majority of Canadian families.
"This government said in the last election, made a commitment, that when we balance the budget ... one of the highest priorities of this government will be tax reduction for Canadian families," Harper said.
New Democrat MP Peter Julian said Flaherty's remarks point to "incoherence" within the federal cabinet and the Prime Minister's Office.
"We now have a finance minister backtracking from what was a key Conservative commitment," he said.
But political junkies may be most interested to see Flaherty and Kenney once again taking different positions.
The two ministers have reportedly had tension simmering between them for years, even if Kenney recently called Flaherty the best finance minister on the planet.
Congratulated the world's best Finance Minister, my friend @JimFlaherty, for a fantastic, fiscally responsible budget pic.twitter.com/taYdesN1UM

— Jason Kenney (@kenneyjason) February 12, 2014
Here are three of their more notable beefs.
Kenney didn't back Flaherty's wife for Ontario Tory leader in 2009
Back in 2009, then-immigration minister Kenney endorsed Tim Hudak for Ontario Progressive Conservative leader despite the fact that Christine Elliott, Flaherty's wife, was also running for the job.
Kenney is a Calgary MP, which made his decision to get involved in the Ontario campaign all the more significant.
The endorsement of a major federal cabinet minister was considered a coup for Hudak, who went on to beat Elliott.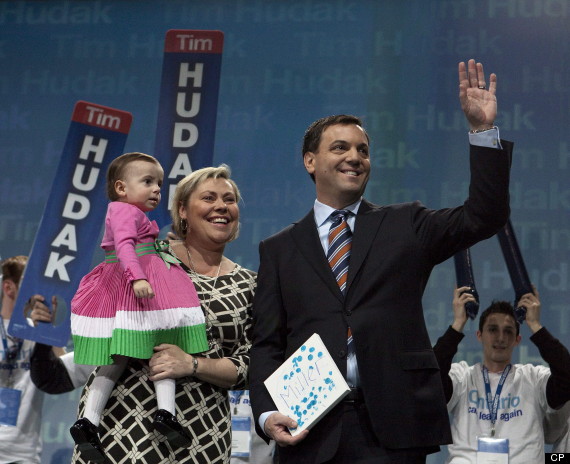 Photo credit: THE CANADIAN PRESS/Pawel Dwulit
But Kenney said at the time that he didn't think things would get too awkward around the cabinet table.
"This is a leadership campaign so far with absolutely no hard feelings — everyone you talk to seems positive about all the different candidates," Kenney told The Canadian Press.
"I don't think it has the makings of being a classic, divisive campaign."
Kenney was reportedly shot down by Flaherty, then wanted his job
In a much-discussed column published in December, the National Post's John Ivison made it clear there have been problems between the two ministers for years.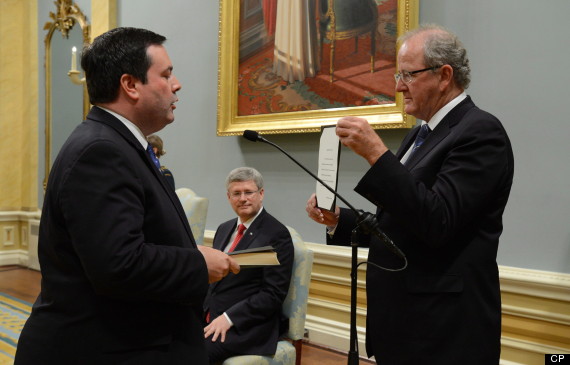 Photo credit: THE CANADIAN PRESS/Sean Kilpatrick
Ivison wrote that a source told him Flaherty once denied Kenney's appeal for $1-billion in funding while he was at Citizenship and Immigration.
And Flaherty, who has been battling some major health issues, didn't take kindly to Kenney seeking a cabinet promotion last summer, Ivison wrote.
"The Finance Minister is also said to be irate at how open Mr. Kenney was in campaigning for his job prior to the last Cabinet shuffle — not to mention that he is favourite to succeed Mr. Harper, a job Mr. Flaherty long coveted for himself," he wrote.
Kenney and Flaherty clashed over Rob Ford
Flaherty has been a family friend of the Ford family since his days serving with Doug Ford Sr. in the Ontario legislature.
The finance minister got quite emotional after the Toronto mayor admitted in November that he smoked crack cocaine. Flaherty even appeared to fight back tears after reporters asked him to weigh in on the scandal.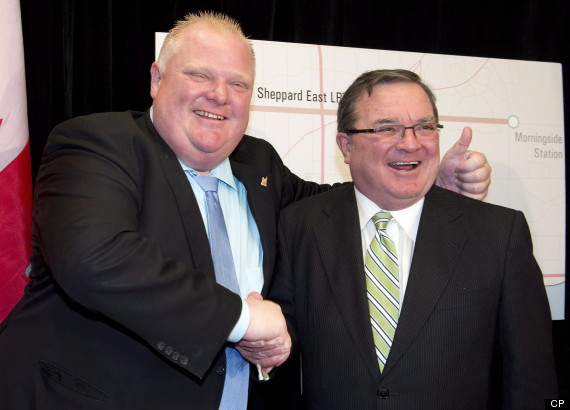 Photo credit: THE CANADIAN PRESS/Frank Gunn
"At the end of the day, he has to make his own decision about what he ought to do," Flaherty said. "Certainly his family is helping him and wishing him well. That's all I can say."
But, just a few weeks later, Kenney sparked headlines after he publicly and forcefully called on Ford to resign.
"I will say as an elected official that I think Mr. Ford has brought dishonour to public office and the office of mayor and his city," Kenney told a reporter.
Flaherty was irate and, according to CBC News, confronted Kenney just before question period and told him to "shut the f--k up" about the Toronto mayor.
Flaherty and Kenney were reportedly separated by four other cabinet ministers and an MP told CBC there were fears the two may "come to blows."
Neither minister denied such a confrontation took place.
And Flaherty later suggested Kenney should stick to his own neck of the woods.
"You know, I'm the minister for the Greater Toronto Area. I don't comment on the mayor of Calgary," Flaherty told reporters.
For his part, Kenney told CBC Radio's The House that cabinet colleagues sometimes disagree but the two men get along just fine.
"He's done a phenomenal job as our finance minister, and I'll defend him any day of the week," Kenney said. "I'm proud to be associated with Jim Flaherty."
With files from The Canadian Press
Also on HuffPost