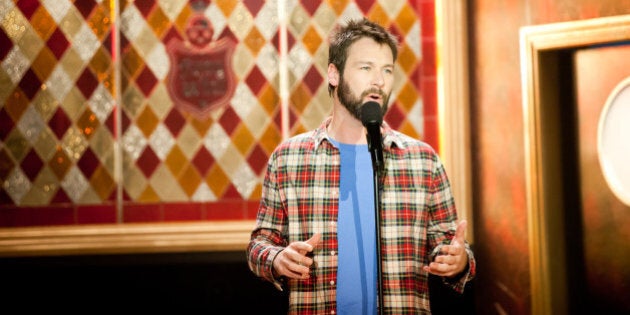 Jon Dore returns to HBO Canada for Season 4 of the popular Canadian comedy show "Funny As Hell," which is premiering this week. Stand-up fans are in for a treat: this year's roster of comics includes Brian Posehn ("Mr. Show"), Moshe Kasher, Mark Forward, Kumail Nanjiani and fan favourite Hannibal Buress.
Dore resumes his hosting duties following a busy year co-starring on the now-defunct ABC sitcom, "How To Live With Your Parents For The Rest Of Your Life," and working on a new show for XBox with his writing partners Adam Brodie and Dave Derewlany.
The funnyman is excited about introducing his "comedy student" on "Funny As Hell" this year, as well as some quality sketch videos that include guest appearances by the likes of "30 Rock"'s Scott Adsit and John Lutz. HuffPost Canada TV caught up with Dore to chat about everything from the new season to James Franco to bags of poo. Yes. Bags of poo.
HuffPost Canada TV: So, any highlights from the new season?
Jon Dore: Brian Posehn is part of the show this year. He's a "Mr. Show" alumnus. It's nice to have people like Brian on the show who are well-respected in the comedy community. Also, the sketches are here yet again. I think we have a really good group of high-concept sketches that work nicely this year, so we're thrilled about that. I also bring a student of mine on to tell his first joke, so I think that will be fun.
How did you pick just one student?
Well, because he's the best! He's the best of the bunch, and I have no problem saying that because the rest of them are terrible. We're working on his performance. It's not about the jokes, it's mostly about his stage presence. So I think people who have children and are thinking about getting them into stand-up comedy should definitely watch. They'll get to see what it's like for their child to be a stand-up comedian.
Would you recommend that as a career choice?
Absolutely! If you want your child to be lonely.
I saw the episode with the sketch with Scott Adsit and John Lutz ["30 Rock"]. Have you worked with those guys before?
No, I hadn't worked with them before, but I knew they were lovely people. We just sent them the script that we wrote, and they liked it and they agreed to take a day out and shoot it with us. It was as simple as that.
Did they share any insights about how working with you compares to working with Tina Fey?
Oh yeah. The whole day was, "Jon, you are so much better than Tina Fey." And I asked them to please stop.
The press release says there's a bag of poo in this season. Can you explain how that came about?
I think that's a misprint! No, there is a bag of poo. I should probably not say anything else. It's hard to explain it without giving everything away. It's a very important bag of poo. I'd say just stay tuned. If you like bags of poo, then you will definitely like that sketch! And who doesn't like a bag of poo?
What was it like for you working on new material for the season?
Hell! It's always hell. It's the worst. That's what makes the show difficult for me, turning over new material for the year. I'm busy doing so many other things, I have to really push myself to get out on the road.
Did your experience working on the sitcom make its way into any of your new material?
No. Definitely not. I'm a liar, I don't like to speak from reality. I feel it would be a breach of other people's privacy. Although now that you mention it, maybe I should investigate it. Maybe I turn down too many ideas, and that's what makes things difficult for me!
You have so many different projects on the go -- what's your schedule like when you're teaching, doing stand-up, working on shows and movies and things like that?
Well, I'm pretty sure you already know this, but I'm not teaching. That's not real.
Be honest. You think I was teaching a stand-up comedy class?
I actually did. Now I'm very embarrassed!
Don't be embarrassed. And you're not embarrassed. I know you're not. No, [teaching comedy] would go against my principles. I don't think I could really teach it. That was just for the benefit of the show. But no, myself and my two writing partners created a show that XBox liked, and they're giving us some money to write it and we're waiting to find out [if XBox will pick it up for a season]. So that takes up a bit of time, and I still travel doing stand-up comedy and then the occasional bit part on a TV show. So I kind of straddle a few different worlds trying to make it happen.
So you have an almost James Franco thing going on, minus the teaching!
You know what, it's funny you say that, because the show I'm doing right now feels very soap opera! That would fall in line with James Franco. I think I'm the furthest thing from James Franco. He's gifted, handsome and wanted. I'm the opposite of those three things.
So who are your own favourite comics right now?
Shit, that's a great question. It's hard to answer. Comics that I really like that I'd love to do something with ... Doug Stanhope would be one. Lynn Shawcroft is another. There are so many. I've got friends in Australia I think are funny. I'd love to do a show where I interview the funniest people I know that are not comedians. My friend in Dan in Ottawa, he's a schoolteacher, and he might be the funniest person I've ever met in my entire life.
Anything else about the new season you'd like to mention?
Andy Kindler is on the season this year. He's one of my favourites. He's one of the funniest, most insightful guys. That's a good reason to tune in. If you liked the show in the past, you'll like this season. If you haven't liked it in the past, then there's lots of other TV to watch. Go watch that Matthew McConaughey/Woody Harrelson show ["True Detective"]. That's pretty good. I want to know what happens with the meth head in the container!
Season 4 of "Funny As Hell" premieres Friday, February 14 at 9:30 p.m. ET/MT.