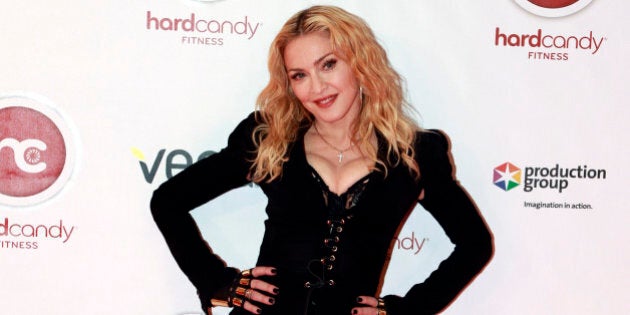 There are many Madonna imitators but there is only one Queen Madge.
Surrounding the "Material Girl" was her team of Hard Candy gym rats, which included her personal trainer Nicole Winhoffer who sported a blue bodysuit underneath a sleeveless black top.
So what's it like training one of the fittest women in showbiz?
"I have to inspire her, keep her mind engaged," Winhoffer told the Toronto Sun. "She's done every single workout ever known to man so I'm constantly creating new things. ...Her body's amazing, and she still has the most even body tone, her shape is amazing, her waist, her arms, it's incredible. She's made it part of her life. She's just so consistent that it never changes."
After the event, Madonna posted a sexy post-workout Instagram pic, which showed the mom relaxing in a pink half-sleeve top.
"Harder is Better! Post work out! Foot in the Ice Bath. A girl has to make a living! #hardcandytoronto. #addictedtosweat," she wrote next to the photo.