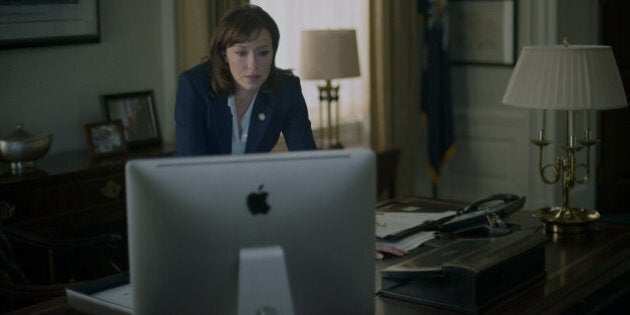 Last time we were in the "House Of Cards" universe, it seemed like Frank (Kevin Spacey) had it all: he'd successfully made it to the near-peak of the White House hierarchy and he'd done away with any adversaries in his path. In Season 2, it looks like there may be a monkey wrench thrown into his plans: an up-and-coming third-term congresswoman by the name of Jackie Sharp (Molly Parker).
From what we've seen in the first two episodes, Jackie has the potential to become a fierce, no-nonsense and dedicated opponent (but she could also be an ally), and whatever results from her and Frank's chemistry onscreen, it's bound to be explosive. It's hard to tell if it'll be a good or bad result, but we can't wait to find out.
HuffPost Canada TV spoke with Parker over the phone from New York, and she filled us in on the details surrounding her new character (as much as she could), taking a crash course on United States politics, and what it's like being the lone Canadian in the cast.
HuffPost Canada TV: How did you get on board?
Molly Parker: Nothing too exciting -- I auditioned. I had seen the show previous to being offered the role. I had watched it in three days, much like everybody else. [Laughs] I was a huge fan.
Ah, so good to be a fan. You did it in three days, despite the density of the show?
Yeah, but that's sort of how I like to watch TV now. I wasn't really a TV watcher before DVR. I was never going to be that person who was going to stay home to watch a show on any particular night. It's not that I go out so much and have such a fabulous life [Laughs], but it's more that I'm not that disciplined.
And this is certainly a powerhouse cast. What's it like working with seasoned vets like Robin Wright and Kevin Spacey?
Robin is lovely, and I've had the opportunity to work with Kevin a lot this year. Robin directed an episode this season, too, so I got to work with her in that capacity, which was a beautiful experience. Kevin is fantastic, and clearly loves doing the show -- he's also funny and silly, too. To have an opportunity to work with great actors at the top of their game makes me better.
What can you tell me about Jackie?
Very little. [Laughs] She's a third-term Democratic congresswoman, she represents a district in California ... because the congressional seats are two years, she's probably been in Washington for about five years. She comes out of military intelligence; she's a soldier, a veteran of the Iraq war. She has a bunch of secrets. We come to find out that she's quite a principled woman, which is revealed as the show goes on.
Is it fair to categorize Jackie as Frank's protégé? Or is that too presumptuous?
It's presumptuous. I would say that he's interested in her politically. He admires her ruthless pragmatism, he says. She is a strong, smart, ambitious woman and politician -- so she's interested in Frank too.
Will there ever be any sort of fireworks between Frank and Jackie?
I can't tell you. It's surprising, I can tell you that. It surprised even me.
In the first two episodes, you play Jackie as rather ambiguous. It's difficult to tell whether she's going to go to the "good" side or the "evil" side.
One of the things I like about this show's writing is even though it's a dark show, there's a dark tone, each character's humanity becomes revealed over time. We don't know right at the beginning ... it blurs the line between who's good and bad. I'm interested in playing complicated, complex women; they don't need to have any particular qualities outside of being as complicated as I can make them.
Is it fun to play this type of character -- especially being a woman in a traditionally male world? Politics is still a man's world, right?
Without a doubt. There's no question. We are living in a time when 51 percent of college graduates are women, and something like 12 to 13 percent of leadership positions in politics and business are occupied by women. It's been this way for a couple of decades now. It's not getting better fast enough. One of the things that was interesting to me about playing this role was to really be curious and look into what it costs a woman to ascend at this level of leadership. I read Hillary Clinton's autobiography, and Nancy Pelosi's, and Condoleeza Rice -- all 800 pages!
Jackie is particular. She doesn't have a family, she's a soldier. She comes with a particular point-of-view. Not a lot of roles necessitate that amount of research, but I did it to understand how legislation is made. As a Canadian, I have some understanding of American politics, but not the knowledge of how a vote gets passed. It was actually really fascinating.
So maybe you should go into politics now!
[Laughs] You know, had I known, I might have!
We need a new mayor here in Toronto. Molly Parker for mayor!
[Laughs] You sure do. You're not kidding.
Are you bringing a secret Canadian influence to the cast of "House Of Cards"?
I'm always a secret Canadian presence. [Laughs]
"House Of Cards" Season 2 will be available for streaming on Friday, February 14, 2014.