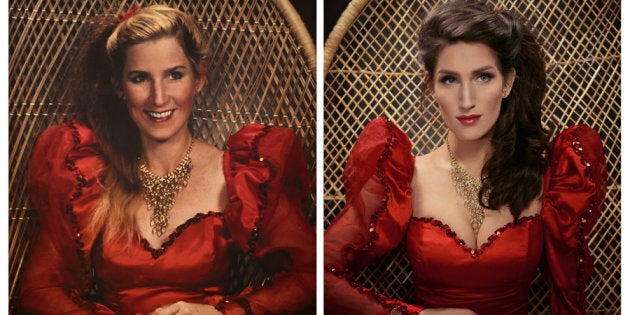 A super cute photo on Reddit is making us do a double take.
McConnell Jr., who, at 32 years old is the same age as when her mom took the original photo, perfected the recreation: from the side-ponytail and gold necklace, to the chair and red lipstick, Christine looks exactly like her mom.
"She wore it to two parties and had professional photos taken in it because she loved it so much," Christine told GoodMorningAmerica.com. "She stuck it in the back of the closet, and even kept all the original jewelry."
After sitting in the closet for 25 years, the dress was dusted off after Christine decided she wanted to photograph it.
"I don't want to call my mom a hoarder, but she does tend to keep things," McConnell said. "And since I'm a photographer, I'm always looking to do something interesting and weird, and this is the perfect Valentine's dress."