When we talk about internet speed, we mostly talk about downloads — how long it takes for something to come in. But in these days of selfies, YouTube videos and cloud storage, your internet upload speeds are more important than ever.
On that file, we've got some bad news. Canada ranks 54th in the world on internet upload speeds, according to a report from Ookla, a company that crowdsources data on internet connections. That places the country just below Kenya and just above Mexico.
With an average upload speed of 5.3 Mbps, Canada is behind the U.S. (42nd place, 6.6 Mbps) and way behind first-place Hong Kong, where upload speeds (60.2 Mbps) are more than 10 times as fast as Canada.
Tech blogger Peter Nowak broke down the average upload speeds by province and territory, and compared them to the averages for various countries. Turns out Ontario's upload averages are about the same as Bangladesh. Nowak made a map of it: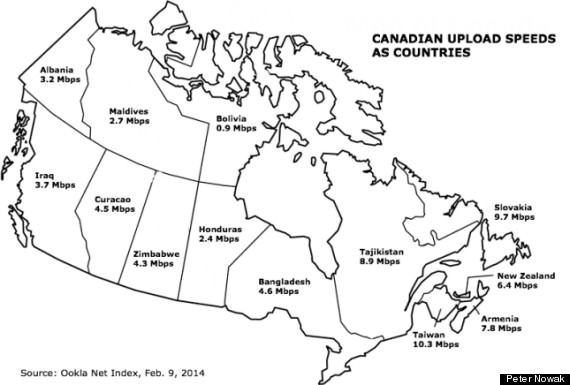 Nunavut takes the crown in Canada for lowest upload speeds; at 0.9 Mbps, it's on the same level as Bolivia.
"In the remote parts of northern Canada, poor upload speeds essentially mean that business simply isn't happening on the internet," Nowak writes.
The Harper government announced new funding in its budget Tuesday for expansion of broadband in Canada's north and rural areas, committing $305 million over five years. But a new report says that's hundreds of millions, if not billions, short of what's needed to connect the north, so the good people of Nunavut will probably have to put up with Bolivian-style upload speeds for the foreseeable future.
Check out the full rankings of internet upload speeds by country.
Also on HuffPost