Is a "sarcastic" Facebook rant enough to send a teenager to prison for a decade?
That question has arisen in the case of Justin Carter, from New Braunfels, Texas. The 18-year-old was reported to the authorities by a Canadian after he allegedly threatened on Facebook to shoot up a school, The Houston Press reported.
The case is based on three comments in a cellphone screenshot that may have had to do with the online game, "League of Legends."
The Facebook exchange appears as follows in the screenshot: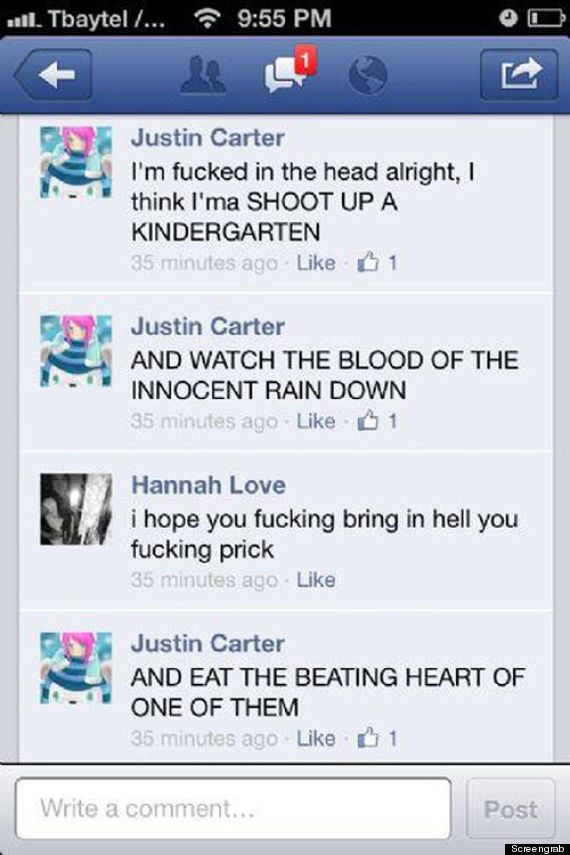 An unidentified Canadian learned of the comments and notified authorities in Austin, Texas, which is listed as Carter's residence on his Facebook profile.
The tipster provided the screenshot and allegedly told police that Carter made "a number of threats on Facebook to shoot up a class of kindergarteners. ... He also made numerous comments telling people to go shoot themselves in the face and drink bleach."
Carter was arrested on Feb. 14, 2013, two months after the Sandy Hook school shootings, and initially booked into Bexar County Jail. He was later transferred to a facility in Comal County where he was brutally attacked and sexually assaulted, his lawyer Don Flanary told the Houston Press.
His bail, initially set at $250,000, was also raised to $500,000 after his transfer.
Flanary said that prosecutors don't even have the full content of the conversation, just the screenshot that the tipster provided. He argues that jurors need to see all the words in the exchange, including what preceded Carter's rant.
Carter's father, Jack, told ABC affiliate KVUE last June that at the end of the conversation, "[s]omeone had said something to the effect of 'Oh you're insane, you're crazy, you're messed up in the head,' to which [Carter] replied 'Oh yeah, I'm real messed up in the head, I'm going to go shoot up a school full of kids and eat their still, beating hearts,' and the next two lines were lol and jk [all sic]."
Carter's mother, Jennifer, has turned to the Internet in an effort to see her son freed.
She has started a Change.org petition calling on President Barack Obama, Texas Attorney-General Greg Abbott and Comal County District Attorney Jennifer Tharp to release her son, saying that his comments were "sarcastic" and that his imprisonment violates his constitutional rights.
"Too many teenagers are being arrested, jailed and having their lives forever altered because of anti-terrorism laws and investigations that impede their 1st Amendment right to freedom of speech."
A Facebook group, "Save Justin Carter," has also been raising awareness of the case.
Jennifer's efforts have borne some fruit. The petition has gathered 219,478 signatures and a donor stepped forward to pay Justin's bail last July.
But Carter has yet to learn his legal fate. Comal County prosecutors have offered 10 years' probation so long as Carter pleads guilty to a felony charge. Flanary, however, has balked at that offer, saying the case should be dismissed.
He understands why police followed up on a tip from the Canadian, but he says they're focusing on the wrong person.
"If they're spending their time chasing around people like Justin Carter, I hope they're not missing the real dangers to society, the real school shooters," Flanary said.
Also on HuffPost
Terrorism Risk Index 2011